NIH-funded collaboration to develop steerable robotic needles for lung biopsies
What started as graduate school research with steerable needles in blocks of gelatin could help pulmonologists more accurately reach sites in the peripheral lung to biopsy them.
A collaboration between that doctoral student – now Associate Professor of Mechanical Engineering Robert Webster; Dr. Fabien Maldonado a pulmonologist at Vanderbilt University Medical Center; and a colleague at the University of North Carolina has resulted in a $2 million National Institutes of Health R01 grant.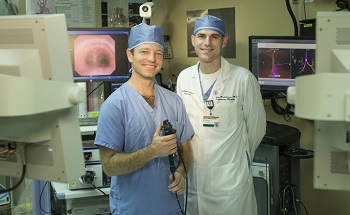 The grant will be used to develop a steerable robotic needle to safely biopsy hard-to-reach lung nodules. The work builds on preliminary research funded by a Vanderbilt Institute for Surgery and Engineering seed grant and a separate NIH grant with UNC that concluded a year ago.
Webster began to design a beveled, steerable tip needle in 2004.
"We were just doing things in blocks of gelatin to see if we could get steerable needles to go where we wanted them to go. At the time, we had no idea that the lung was where this technology would be most useful for doctors — we were thinking about applications in the prostate and liver," Webster said.
Once at Vanderbilt, Webster continued his work on steerable, robotic surgery needles.
However, Webster needed a clinical collaborator to help advance the system from a crude lab prototype to a real-world medical device usable in the operating room.
Enter Fabien Maldonado, M.D., who joined VUMC in July 2015 from the Mayo Clinic. He is an interventional pulmonologist who commonly uses bronchoscopy as a minimally invasive way to diagnose and treat lung diseases. He reached out to Webster on the recommendation of a colleague to see if they could collaborate on a novel approach.
"We started talking about his research that covers a variety of fields, but specifically the field of lung cancer, which is a huge part of my practice and a huge health care issue," said Maldonado, assistant professor of Medicine.
"It was not until Fabien came to Vanderbilt and I started talking to him that I finally had someone who could give me the clinical insight I needed in order to make this system work the way it needed to work," Webster added. "That was the missing piece for me. That has led now to really good proposals and lots of different projects we are working on."
He and Maldonado, working with Ron Alterovitz and Rick Feins at UNC, discovered "the amazing potential of steerable needles in the lung" through an NIH R21 project last year. The team has designed a system that will reach suspicious nodules by deploying a steerable needle from a bronchoscope's tip.
In the new R01 grant, Ron Alterovitz, Ph.D., associate professor in the Department of Computer Science at the University of North Carolina-Chapel Hill, is the principal investigator, with Maldonado and Webster as co-investigators.
Lung cancer kills more than 150,000 Americans each year and early diagnosis great improves the likelihood of survival. A definitive diagnosis requires biopsy.
Existing approaches make accurate biopsy challenging or impossible for many nodules. The new system will harness the capabilities of a new class of steerable needles to extend the range of bronchoscopes and reliably and safely access nodules throughout the lung, including in the peripheral zone, Maldonado said.
"It will be technically innovative in that it will combine three types of continuum devices that have not previously been unified, will integrate biopsy collection with a bevel tip steerable needle for the first time ever, and will provide a novel physician interface for visualizing and controlling steerable needles in the lung," Webster said.
He also credited the Vanderbilt Institute for Surgery and Engineering (VISE) with dramatically accelerating this important collaboration.
"We are deeply indebted to VISE for a seed grant that helped us gather preliminary data for NIH proposals, as well as provided a Physician-in-Residence grant that enabled Fabien to spend a day a week in the research lab. This kind of support is just not available at other universities.
"Dedicated research time for physicians like Fabien has been the key to accelerating NIH proposals that otherwise would have taken years to mature …if they ever did at all," Webster said.
This project is funded by National Institutes of Health Grant R01EB024864.
Media Inquiries:
Kathy Whitney, (615) 322-4747
kathy.f.whitney@vanderbilt.edu
Posted on Wednesday, November 8, 2017 in needlescopic surgery, NIH, R01, Robert Webster, steerable needles, ViSE, VUMC,Mechanical Engineering, News, News Sidebar, Research