Rocketeers 'a step closer' to fifth national title after near-perfect launch, awards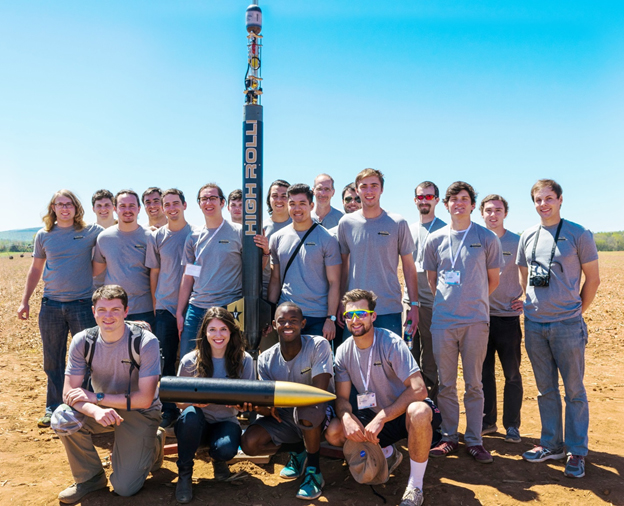 Vanderbilt rocketeers are a step closer to defending their fifth straight national title after a successful launch at the 2017 NASA Student Launch competition April 8 at Bragg Farms in Toney, Alabama.
The team won the prestigious payload design award for the seventh time and the educational engagement award for the third time at a banquet sponsored by Orbital ATK at the Davidson Center for Space Exploration at the U.S. Space and Rocket Center in Huntsville.
Vanderbilt has been the top overall winner of the launch competition the past four years. This is the 10th year a Vanderbilt team sponsored by the Vanderbilt Aerospace Design Laboratory has competed in the event. This is NASA's 17th annual Student Launch, near the agency's Marshall Space Flight Center in Huntsville, Alabama.
Teams from 23 states launched their student-built rockets, each designed to fly to an altitude of 5,280 feet, or 1 mile, to deploy an automated parachute system, and safely land and recover in order to be eligible for prizes and awards in various divisions.
A NASA student launch panel is expected to announce the top overall team May 12. Design reviews, outreach, website, safety, and a successful flight will all factor into determining the overall winner.
"The payload and the education engagement awards are two of the most prestigious awards handed out by NASA. Both require innovation, the former in the design of a unique engineering payload to fly on a rocket, and the latter through novel methods of reaching out to school students of all ages to interest them in STEM subjects, specifically aerospace engineering," said Amrutur Anilkumar, professor of the practice of aerospace and mechanical engineering and director of the Vanderbilt Aerospace Design Laboratory.
The University of Louisville won the rocket design award. Cornell University won the project review award and Auburn University won the website design award.
"This year we flew a novel cold gas thruster payload, wherein tangentially exiting supersonic exhaust jets were used to manipulate and control the rotation on the rocket," said Dustin Howser, a mechanical engineering senior on the design team who will be taking his expertise to work at Lockheed Martin Corporation.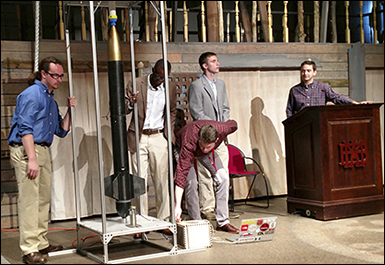 "We had fun with educational engagement this year, in particular, I enjoyed visiting my alma mater Montgomery Bell Academy where we put on a live demonstration of cold-gas thruster actuation of rocket roll through a ground-based test facility in front of 800 high school students and teachers.  The huge applause after a tension-filled demonstration was a testimony to our planning and execution," said Paul Moore, a senior on the design team who was instrumental in design of the rocket deployment and recovery system.
"Ours was an excellent launch, and some of the tweaking we did on the launch side paid rich dividends as our rocket soared to a height of 4280 feet against a predicted 4300 feet. We are quite happy with the altitude," said mechanical engineering senior Grady Lynch, who has taken a job at Lockheed Martin after graduation.
"We are still analyzing the flight data and we will be making a detailed final report to NASA to put us in strong contention for the overall winner prize. We have strong competition from Cornell," said student launch team leader Derek Phillips, who will join SpaceX following graduation.
Student Launch is a research-based, experiential activity requiring an eight-month commitment from students to design, fabricate, test and launch a rocket, as well as complete a lengthy series of real-world comprehensive flight reviews, all overseen by NASA staff, engineers and scientists.
Contact:
Brenda Ellis, (615) 343-6314
brenda.ellis@vanderbilt.edu