Smart jewelry creator to the rescue: Engineering's Chambers lecture is April 4
WiseWear bracelets are health trackers that can summon help
Ph.D.-turned-entrepreneur Jerry Wilmink is the founder and CEO of WiseWear Corporation, a Texas-based digital health company that develops wearable technology products for fitness and medical applications.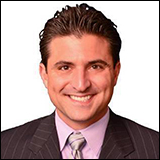 A Vanderbilt biomedical engineering alumnus (bachelor's, master's and Ph.D.) and self-described "mad scientist," Wilmink also has experience as an inventor, startup business consultant for venture capital firms, and program manager for the Department of Defense's $2 billion Small Business Innovation Research program.
Wilmink will deliver the School of Engineering's Chambers Family Entrepreneurship Lecture Tuesday, April 4, at 4:10 p.m. in Jacobs Believed in Me Auditorium in Featheringill Hall. The lecture – "Journey of an Engineer Turned Entrepreneur" – will trace his journey from research associate at the Air Force Research Laboratory to creator of WiseWear. A reception follows in Adams Atrium.
In 2013, Wilmink began building what would become WiseWear from his San Antonio garage with the goal of developing a family of connected Internet of Things (IoT) safety devices. The result is a flagship line of "smart" luxury jewelry that comes with distress messaging, mobile notifications, and detailed health and wellness activity tracking.
WiseWear bracelets were unveiled at the 2016 Consumer Electronics Show. They belong to an emerging category of wearables known as fashtech that look more like jewelry than functional gear and play well with fashion-conscious wardrobes. Prices range from $295 to $345. Wilmink has donated three WiseWear bracelets and will draw lucky winners from the Chambers lecture audience.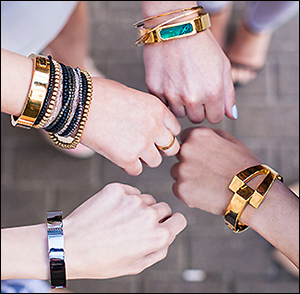 Embedded with technology that allows it to communicate with a smartphone app, the bracelet functions as a health tracker, monitoring steps taken, distance traveled, and calories burned, and even dehydration. Wearers can receive mobile alerts for texts and emails and include a distress messaging function. Discreetly tapping the bracelet will notify a preapproved list of emergency contacts with a geotagged location.
The bracelets have been featured on the Today Show, FastCompany, Mashable, WWD, Wired, ABC News, USA Today, JCK, Engadget, CNBC, Inc. Magazine, Time, Money, Huffington Post, InStyle and BBC World News.
As a National Academy of Science's research associate, Wilmink founded the first terahertz biosensing laboratory in the Air Force Research Laboratory. He has several patents, published 55 manuscripts, book chapters, and review articles, and has delivered more than 100 keynote or plenary presentations at conferences from TEDMED to SXSW and SPIE.
In 2015, Wilmink was selected as San Antonio's Tech Entrepreneur of the year and for San Antonio's 40 Under 40 award. He also was chosen for membership in the Young Entrepreneur Council (YEC), named by Forbes as America's most elite entrepreneur organization. He is a founding member of a VISTAGE Key group, serves as an adviser for several startup companies, and as a mentor for TechStars. He is a Fellow and serves on the Board of Directors for the American Society for Laser Medicine and Surgery.
The Chambers Family Entrepreneurial Lectureship was endowed in 2014 by the Chambers Medical Foundation. The lectureship encourages and invigorates entrepreneurial activity among School of Engineering students and throughout the university community by bringing successful business leaders to share their experiences and offer advice to students on a wide-ranging variety of topics.
Read more>>
Vanderbilt engineering PhD disrupts wearables market with biosensing through metal – January 2016
Contact:
Brenda Ellis, (615) 343-6314
Brenda.Ellis@Vanderbilt.edu
Twitter @VUEngineering
Posted on Thursday, March 16, 2017 in Chambers Family Entrepreneurial Lectureship, Chambers Lecture, entrepreneur, Jerry Wilmink, smart bracelets, smart wearables, WiseWear,Alumni, Biomedical Engineering, Home Features, Media, News