Student rocketeers earn second place in NASA contest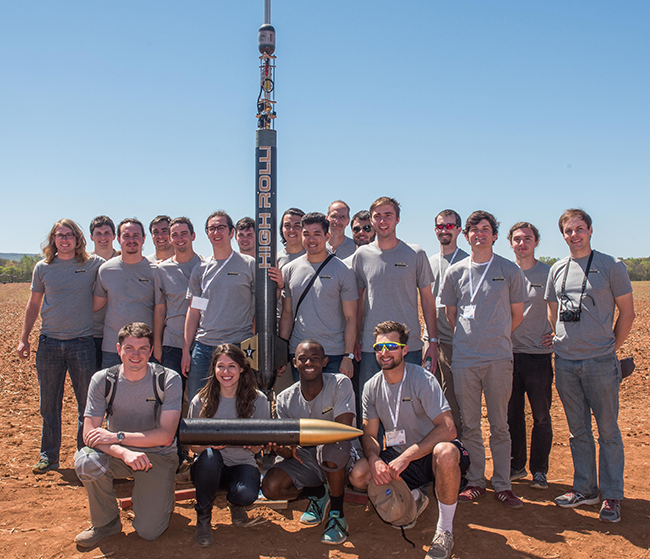 Engineering students from the Vanderbilt Aerospace Design Laboratory earned the second place in the 2017 NASA-Orbital ATK Rocket Challenge. They received a cash prize of $2,500, an award created this year by the National Space Club in Huntsville, Alabama.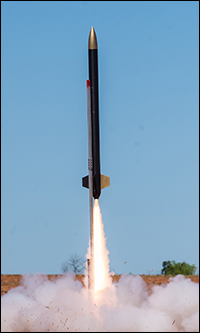 For ten straight years, Vanderbilt has soared to success with innovative rocket designs and payloads and this year has been no exception. Having earned more than 20 awards in the past decade, including a record-setting four back-to-back national championships from 2013 to 2016, VADL added the 2017 Payload Design, Rocket Fair Display and Education Engagement awards to their awards collection.
NASA announced the results of the competition May 12. University of Louisville captured top honors and Cornell University came in third.
The VADL team developed an ingenious set of cold gas supersonic thrusters to control the roll on their rocket – High Roller – during flight, netting them the prestigious Payload Design Award.
The payload design was one of three predetermined payload options offered to university teams. The roll induction and counter roll payload required teams to design a system that is capable of controlling a rocket's roll after motor burnout. After the system has induced two rotations, it requires a counter rolling moment to halt all rolling motion for the remainder of rocket's ascent.

"It is extremely noteworthy that VADL's decade of success has coincided with rapid developments in the private space sector and the admission of extraordinary students to Vanderbilt, who have been able to take on the competitions' extreme challenges," said Professor Amrutur Anilkumar, who created the program and directs VADL. "Seven payload design awards and four national championships is proof positive as to what can be achieved at Vanderbilt without a formal department in aerospace engineering."
Another testament to VADL's success: All 2017 seniors in the program seeking jobs are heading to aerospace careers at Lockheed Martin, Space-X, Honeywell Aerospace and other companies. Three seniors start graduate studies at Stanford in the fall.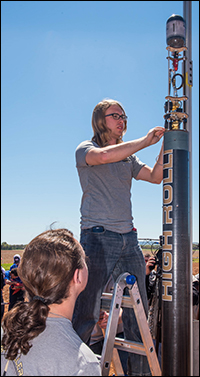 The student launch competition is a NASA-conducted and aerospace industry-evaluated engineering design challenge built around a NASA mission. It is an intense eight-month contest involving payload and rocket designs, project reports, design reviews, outreach activities and website design, followed by a grand finale launch in April.
"The Vanderbilt Aerospace Design Laboratory was set up to provide an opportunity for engineering students, both undergraduate and graduate, to take up the challenge of designing a novel payload and a launch vehicle each year, working through the details starting from fundamental science, through engineering analysis, and eventually leading to technological deliverables," Anilkumar said.
"It is a very intense immersion program and a challenge in extreme engineering. What drives the team is the fact that they need to build a demanding vehicle around an innovative payload and test fly it in the field, where everything has to work in a six-eight second experiment window," he said.
Building something from scratch is a liberating experience, said Grady Lynch, a 2017 mechanical engineering graduate who is headed to Lockheed Martin as a design engineer.
"In aerospace engineering form fits function, and there is no room for aesthetics.  The modeling and analytical solutions, testing and validation, all meld seamlessly—it is the ultimate engineering," said Lynch. "One aspect of this program is that the on-pad cost of the rocket should not exceed $5000. This requires that we design, machine and fabricate components all on our own and also undertake rigorous component testing."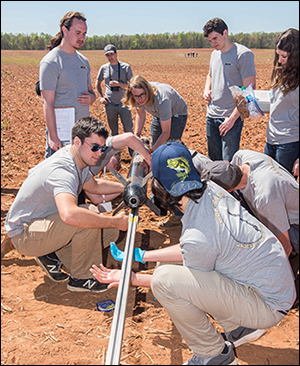 Michael Gilliland, who will be joining Space-X as a design engineer, said detailed analysis and risk mitigation for both the rocket and the payload were at the top of the team's agenda.
"Generally, subsystems that function in normal gravity conditions are exposed to extreme loads at 15g takeoff and unexpected failures can happen. To anticipate these failures and take preemptive actions, and to set up backup protocols for minimum deliverable data, was the focus of our training," Gilliland said.
"Ground-based testing and validation is a key component, while the flight is the ultimate challenge. Building robust platforms for checking out rocket roll control through cold gas thrusters has been most rewarding," said Artie Binstein. He is heading to Stanford University for graduate school where he plans to study space flight dynamics and controls.
"Simulating rocket flight and incorporating the effects of atmospheric wind gusts with an overlay of rotation control has been a very practical validation of complex analytical tools. We have been able to predict rocket performance to a high precision," said Paul Register, who also is heading to Stanford for graduate studies in aerospace engineering.

"Robin Midgett, VADL laboratory manager and rocketry mentor, has been a great ally — combining his enthusiasm for rocketry with the encyclopedic knowledge of the middle Tennessee landscape to make field engineering a delightful and safe experience for the students," Anilkumar said.
"We are convinced that all of these VADL alumni will go on to shine in the aerospace industry and continue to make Vanderbilt proud."

(Video: Grady Lynch/VADL)
Contact:
Brenda Ellis, (615) 343-6314
Brenda.Ellis@Vanderbilt.edu
Twitter @VUEngineering
Posted on Friday, May 12, 2017 in A.V. Anilkumar, aerospace, NASA-Orbital ATK Rocket Challenge, payload A.V. Anilkumar, rocket, student launch competition, VADL, Vanderbilt Aerospace Design Laboratory,Alumni, Home Features, Mechanical Engineering, News