Uncertain times should not stop healthcare facility innovation, efficiency, accountability, experts say
Though the event title highlighted the "Epidemic of Uncertainty" surrounding the U.S. health care system, attendees left the 11th Healthcare Design and Construction Symposium with concrete ideas for moving forward.
Among them: Ways the built care delivery environment can lower costs but better serve patients and clinicians; how huge data aggregation efforts can deliver insights for targeted population care; how tweaks to employer benefit programs can save companies, workers, and insurance companies money; and how existing technology soon could be used to improve infection control, privacy, and care.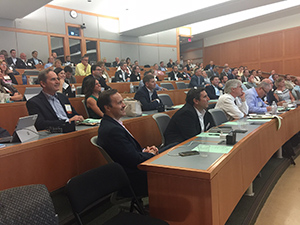 Top industry leaders from across the country shared their wisdom with a sold-out crowd for the annual event, which is sponsored by the Engineering School's Department of Civil and Environmental Engineering.
Presentations on cyber threats, micro hospitals, freestanding ERs, data-based cognitive health care, productivity, reimbursements, technology, and patient experience gave attendees multiple viewpoints.
Shane Lutz, P.E., executive vice president of Henderson Engineers in Kansas City, especially appreciated the Q & A session with David Dill, president of Lifepoint Health, Inc.
"We don't often have access to the CEO," said Lutz, who works with large and small public, private and military healthcare facilities. "It was great to get the C-suite perspective."
He was introduced to the annual symposium by Drew Rimmer, executive vice president of Henderson Building Solutions, also in Kansas City, a few years ago. Henderson, a platinum sponsor, counts HCA among its clients.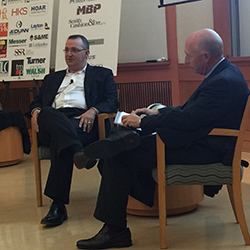 The event size – registration is capped at 150 and organizers maintain a waiting list every year – supports meaningful conversations and helps build relationships, Lutz said.
Laura Reinbold, P.E., (CE '82) agreed. She has attended the symposium for several years and has been on the spring Project Management Symposium planning committee for the past two years.
"In many ways it is like a reunion because you see some of the same people every year. The presenters are from broad, diverse backgrounds, and such an intimate setting allows you to tap into those resources," said Reinbold, national account manager with Terracon, a major U.S. geoprofessional firm. "What I love about the conference is that it gives me the 50,000 foot view so I can think about what I do and adapt it for the needs of our clients. There were a lot of takeaways."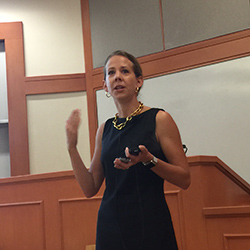 Examples, she said, include the focus on efficiency through early collaboration, standardization and even prefabrication of components and how freestanding ERs and other community-based care will be the new delivery model.
"I was pleased with the diversity of symposium presenters, especially women," Reinbold said. "As women make 80 percent of healthcare decisions for themselves and their families it is encouraging to see women tapped as subject matter experts."
The keynote speaker was Suzanne Gelderman Rivera, Denver-based associate partner at McKinsey & Company. Other presenters included Josh Berlin, managing partner of IBM Watson Health, and Dr. Neil Halpern, director of the Critical Care Center at Memorial Sloan Kettering.
Halpern explored what ICUs in 2050 might look like – and noted that much of the "future" technology already exists in early iterations, including virtual doctors, virtual "visitors," and robotic attendants.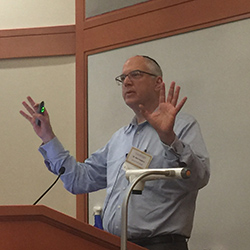 Also,
Single-patient ICU rooms with LCD glass enabled for privacy or disabled for looking through or a larger space with more patients and virtual "walls," which still provide privacy and infection control
Automated surveillance systems with warnings of airborne infectious agents – on skin, devices, and furniture – plus targeted air/surface decontamination and purification
Big displays with calming graphics and images that change with the time of day and the season – and could be made to look like patients' homes
"All of the concepts are in some development today," Halpern said.
Posted on Monday, August 14, 2017 in Construction Management Program, David Dill, healthcare design, Sanjiv Gokhale, symposium,Alumni, Civil and Environmental Engineering, Home Features, News