Wikswo group tech licensed by UK company for organ-on-chip products
A biotechnology company based in the United Kingdom has licensed three patents and applications from Vanderbilt University for its Organs-on-Chips products.
CN Bio Innovations Ltd., a spinoff from Oxford University, secured a combination of exclusive and non-exclusive rights to microfluid technologies developed by Professor John Wikswo, Gordon A. Cain University and his group. Wikswo, a biomedical engineering professor, also is the A. B. Learned Professor of Living State Physics and founding director of the Vanderbilt Institute for Integrative Biosystems Research and Education (VIIBRE).
"With these additional technologies the precision and control we can achieve over conditions in the organ-mimics open up exciting new possibilities for modelling human biology and disease in the laboratory," David Hughes, CN Bio's Chief Technical Officer, said in a statement.
The Vanderbilt Center for Technology Transfer and Commercialization announced the licensing arrangement this week.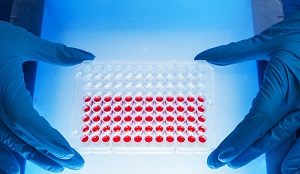 The technologies are for micropumps and valves that allow interactions between two or more organ mimics under automatic computer control. With them, researchers can simulate vital organs, including those that secret hormones, missing from multi-organ devices. Such devices will better mimic human physiology.
Wikswo said he eager to see devices his group has worked on for the past seven years move into commercial production.
"CN Bio is a forward-thinking company that appreciates what biomechatronics can bring to not only Organs-on-Chips but also the breadth of well-plate biology," Wikswo said in the company's statement. "I look forward to working with CN Bio as we translate the results of federal funding from the laboratory to the clinic, pharma, and other biological researchers."
Specifically, the technology involves what is known as a "96-well plate," a standard tool in biomedical and clinical research. Microplates are sized by their number of wells, each of which can hold a minute amount of liquids and make them vital in organ-on-a-chip applications.
CN Bio said it was interested in the Vanderbilt/Wikswo group advances because they extend the range of potential applications by "providing a compact, cost-effective device that enables precise, automated control over the media composition in each well in a 96-well plate."
The licensed technologies could replace studies that use mice by mimicking in vivo drug exposure in an in vitro system and, separately, optimize the conditions for stem cell differentiation, according to CN Bio.
The agreement includes exclusive rights to applications claiming priority from US 15/191,092, as well as non-exclusive rights to US 9,618,129 and applications claiming priority from US 13/877,925.
Posted on Wednesday, October 18, 2017 in Center for Technology Transfer and Commercialization, John Wikswo, licens, organ-on-a-chip, technology transfer, VIIBRE,Biomedical Engineering, Chemical and Biomolecular Engineering, News, News Sidebar, Research