Summer research cements interest, opens options for undergraduates
How did you spend your summer?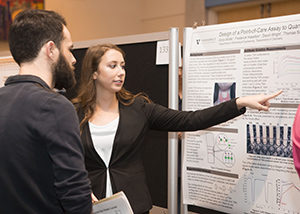 More than 60 engineering undergraduates have quite detailed answers to that standard question, though their answers are anything but routine. They worked for 10 weeks under the direction of faculty mentors on active research projects across all School of Engineering departments.
Among the dozens of projects:
Investigating defects in 3D printed parts (Michael Davies, a junior in mechanical engineering)
Studying the effects of collagen matrix density on blood vessel metabolism (Sophie Xie, a senior in biomedical engineering);
Using virtual reality as a tool to improve spatial cognition (Cole Carlin, a senior in computer science);
Building a better platform to test the effects of radiation on electronics (Nick Belsten, a junior in electrical engineering); and
Exploring the use of engineered polyelectrolytes for intracellular drug delivery (Chuong Nguyen, a sophomore in chemical and biomedical engineering).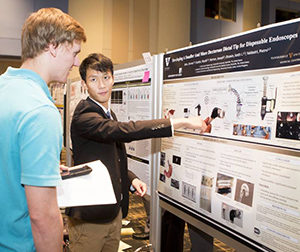 Kelsey Leeburg, a junior planning to double major in biomedical and electrical engineering, designed and assembled a handheld spectrally encoded coherence tomography and reflectometry (SECTR).
"I am still amazed at how much I learned this summer, given that I knew very little about optics at the beginning," she said. "I can now build a spectrometer and OCT system as well as explain how they work."
Students helped develop a new imaging system for use in breast-preserving cancer surgeries; mapped flood hazard scenarios to evaluate community resilience; and wrote new programming to control groups of swarm drones.
Margaret Bobo, an electrical engineering sophomore, worked in the Medical-image Analysis and Statistical Interpretation (MASI) Lab and gained experience as well as new skills.
"I am very thankful to have been involved in the cutting edge of image segmentation, and I am proud of the results," she said.
Twenty students, including six from the School of Engineering, were recognized with awards for exceptional posters and presentations at the annual university-wide undergraduate research fair on Sept. 14.
Michael Davies, a junior in mechanical engineering, was among them. He worked with mentor Doug Adams, Daniel F. Flowers Professor and Chair, Department of Civil and Environmental Engineering, on "Defect Detection in 3D Printed Parts."
The research was challenging on many levels, including that it opened for consideration an area Davies was almost certain he did not want to pursue after graduation – nanoparticles.
"Now I'm not so sure," he said.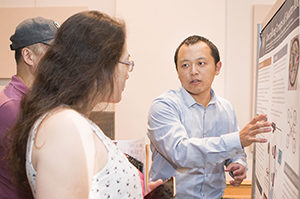 This year's fair – the fourth – highlighted a diverse array of student research endeavors, with participation from all four undergraduate colleges, and faculty mentors representing 49 departments across Vanderbilt's campus and several other institutions.
"We were thrilled to witness such a high level of student engagement and achievement at this year's research fair," said Clare McCabe, Cornelius Vanderbilt Professor of Chemical and Biomolecular Engineering and outgoing director of the Vanderbilt Undergraduate Student Research Program (VUSRP).
"The event represents a celebration of the participants' immersive experiences, which teach them the skills to become agents of change in our broader society," she said.
The other five School of Engineering undergraduates who received special recognition and awards are:
Logan Guy, junior, chemical and biomolecular engineering, with "Creating Customizable Initial Configurations of Lipid Bilayers for Molecular Dynamics Simulation"  (Mentor: Clare McCabe)
Aditya Sathe, junior, biomedical engineering, with "Identification of the Replication Fork Proteome"  (Mentor: David Cortez)
Emily Schafer, senior, biomedical engineering, with "Neuroscience Adapting NeuroVascular Unit (NVU) organ-on-chip to examine breast-to-brain metastasis"  (Mentor: Dmitry Markov)
Dennis Sohn, senior, mechanical engineering, with "Towards a Low Cost Novel Intuitive Disposable Endoscope with Intrinsic Pneumatic Actuation Assessing the Upper Gastrointestinal (UGI) Tract and Stomach"  (Mentor: Pietro Valdastri)
Benjamin Terrones, senior, biomedical engineering, with "Image-guided intraocular injection using multimodality optical coherence tomography and fluorescence confocal scanning laser ophthalmoscopy in rodent ophthalmological models" (Mentor: Yuankai Tao)
The fair was sponsored by the Vanderbilt University Summer Research Program and the Littlejohn Family, the Office of the Provost, and the School of Engineering.