Valentine wins Chancellor's research award; Paschal recognized for 25 years of service
Jason Valentine, associate professor of mechanical engineering, was one of five Vanderbilt professors who won a Chancellor's Award for Research this week.
The award recognizes excellence in works published or presented in the last three calendar years. Recipients also received $2,000 and an engraved pewter julep cup.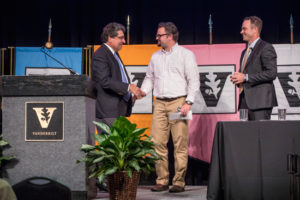 Associate Dean Cynthia Paschal was among about 30 faculty members were recognized for 25 years of continuous service to Vanderbilt. The service honorees each will receive a chair with the Vanderbilt logo and a brass plate engraved with their name.
In her role as associate dean, Pascal oversees industry relations, study abroad and international relations, and student professional development for the School of Engineering.
Paschal also is an associate professor of biomedical engineering, radiology and radiological sciences. Her research involves magnetic resonance angiography, magnetic resonance imaging of lungs, cardiopulmonary MRI techniques and applications, computed tomography; and application of MRI and CT to imaging of lung physiology.
Valentine was honored for work published in Nano Letters in which he made a major advance in the design of optical metamaterials.
His research group is developing optical metamaterials, which are nanostructured composites that allow engineering of a wide range of properties. Nanoscale structuring supports creation and investigation of properties that don't exist in nature, such as a negative and zero-index of refraction. Applications include ultra-compact optical elements, efficient and low power optoelectronics, and hot electron-based energy conversion devices.
The faculty awards were among several honors bestowed Thursday by Vanderbilt Chancellor Nicholas S. Zeppos at the 2017 Fall Faculty Assembly. Zeppos made other significant announcements at the event, including a $30 million investment designed to create an additional 30 endowed chairs.
With the Chancellor's Chair Challenge, Vanderbilt pledges a million-dollar match from the university's endowment for each chair gift of $1 million or more made by June 30, 2018.
Zeppos also announced a two coming projects – a new building to support fundamental research in science, engineering and biomedical science and a new hub for humanistic inquiry.
"We are a university on the move, and opportunities for new colleagues and big, bold discoveries await," he said. "We will need more space for the trans-institutional work that sets us apart."