VECTOR earns portion of $7M grant for maritime, multimodal transportation research
Vanderbilt's Center for Transportation and Operational Resiliency (VECTOR) will receive $1 million of a total $7 million, five-year U.S. Department of Transportation grant aimed at preserving and optimizing the nation's transportation system.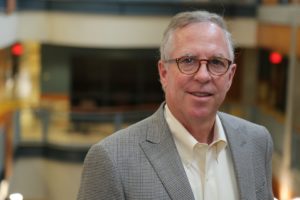 VECTOR was selected as part of a consortium headed by the University of Arkansas, and researchers will study maritime and multimodal transportation with a goal of optimizing routes and reducing congestion. Key components of the research involve education and technology transfer.
"Our research shows the use of inland waterway navigation channels avoids millions of truck trips that add to congestion already clogging our nation's highways," said Craig Philip, center director and a research professor of civil and environmental engineering. "Given the link between international trade and gross domestic product, efficient and resilient ports are critical to the nation's overall economy and the abilities of intermodal carriers to move freight between ports of entry and inland locations."
The new funding will allow VECTOR researchers to continue working on the design of supply-chain networks to optimize resources and minimize congestion on navigable waterways. The research focuses on efficient design and planning for barge containers, shipping cycle times, reliability, safety and environmental preservation.
Contact
Heidi Hall, (615) 322-6614
Heidi.Hall@Vanderbilt.edu
On Twitter @VUEngineering
Posted on Saturday, January 14, 2017 in maritime, multimodal, Nashville, transportation, Vanderbilt, VECTOR,Civil and Environmental Engineering, Home Features, Media, News, Research