VISE symposium explores interoperative fluorescence to light up tumors
Using fluorescently labeled antibodies as a contrast agent can give cancer surgeons highly specific real-time detection of tumors that may accelerate diagnosis, preserve more healthy tissue, and improve patient outcomes.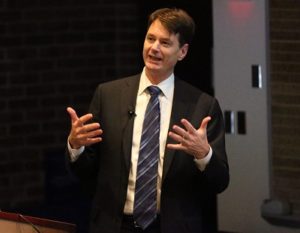 "There is a tension between a positive margin and taking too much normal tissue," said Dr. Eben Rosenthal, the John and Ann Doerr Medical Director of the Stanford Cancer Center. "Sometimes it is obvious and sometimes it is not. The fundamental problem how do you sample?"
Rosenthal, a clinically active as an oncologic and microvascular reconstructive surgeon, delivered the keynote address Dec. 13 at the 6th annual Vanderbilt Institute for Surgery and Engineering (VISE) Symposium.  He took the audience of surgeons, engineers, research scientists, and medical students through the state-of-art in near-infrared (NIR) fluorophores, cancer-targeting strategies, and instrumentation for intraoperative cancer detection.
The deeper tissue penetration and limited autofluorescence of NIR fluorescence imaging gives this type of light advantages over visible-light fluorescence imaging. Rosenthal is involved in ongoing clinical trials using fluorescence in brain, pancreas, skin, and head and neck tumors.
Combining an antibody with an agent "lit up tumors beautifully," he said.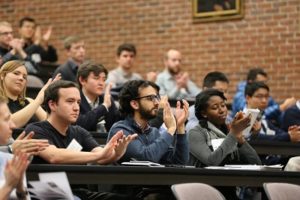 The Surgery, Intervention, and Engineering Symposium attracted more than 100 people and, for the first time, included a forum on next-generation surgical devices and systems sponsored by The Vanderbilt Center for Technology Transfer & Commercialization. The Innovation & Investment Partnering Forum featured Joshua Phillips, managing partner at Catalyst Health Ventures; Dr. Aftab Kherani, partner at Aisling Capital; Dr. Charles Bridges, vice president of medical devices at Johnson & Johnson and the company's global cardiovascular therapeutic area expert; and Amit Mulgaonkar, associate at Mithril Capital Management LLC.
The chance to hear from investors was a meaningful addition, attendees said. The forum underscored another key theme of the day — partnership.
Rosenthal praised VISE, calling it a model for how engineers and surgeons can work together to advance procedural medicine and improve patient outcomes. He also provided a glimpse into how surgeons think.
"We see tissue differently," he said. "We react with tissue in a different way."
"Surgeons love what they do and it is not easy to get into the lab," Rosenthal said. "In medical school they are told to do research but when they start practicing there is 'no time.' But we are all grownups and can make our own choices."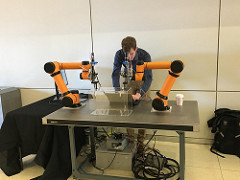 Showing a new technology reduces recurrences, minimizes complications, or preserves more organ function is only part of the journey. The road requires not only regulatory approval but working with insurance companies so healthcare providers can get reimbursed for using new approaches, Rosenthal said.
Diagnostics are different than therapeutics, and in Rosenthal's research specialty, surgeons, scientists, industry representatives, and other key parties hold annual meetings to share new research and likely directions. He believes those discussions are crucial to regulatory and reimbursement approval.
"They help establish an academic-industry relationship," Rosenthal said. "Nothing is going to get to market without industry. Period."
Posted on Monday, December 18, 2017 in CTTC, Surgical and Interventional Engineering, ViSE,Biomedical Engineering, Chemical and Biomolecular Engineering, Electrical Engineering and Computer Science, Mechanical Engineering, News, News Sidebar