Zelik receives two major young investigator awards for biomechanics work
Karl Zelik, an assistant professor of mechanical engineering, has received top awards from the International Society of Biomechanics and the American Society of Biomechanics for early career research.
Both awards recognize Zelik's body of work on improving and unifying the understanding of human locomotion, and translating this understanding to advances in prosthetic and exoskeleton technologies. The ISB Promising Scientist Award is the society's highest award for early career researchers, and the recipient is selected from a worldwide pool of applicants. It is bestowed every two years and will be formally announced at the society's conference next month in Brisbane, Australia.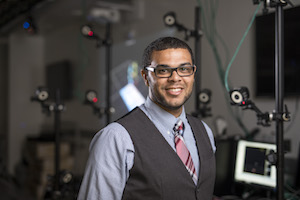 The ASB Young Scientist Post-doctoral Award ceremony will be at that group's conference in August at the University of Colorado-Boulder. The award is given annually.
"I am ecstatic and feel incredibly honored to have been chosen," Zelik said of the double honor.
As a newer academic specialty, biomechanics lies at the intersection of biology, physics and engineering, and is a "very collaborative and supportive field," he said. "I've had parents, teachers, professors and colleagues encourage me and challenge me along the way."
Zelik, who joined the School of Engineering faculty in 2014, focuses on improving mobility for lower-limb prosthetic users and others with mobility impairments or physical disabilities. Investigating the biological structures and mechanisms behind human movement – joints, muscles and tendons – helps to design better prosthetic limbs and other assistive devices such as orthoses and robotic exoskeletons.
Specifically, his research was the first to unify what had been two distinct branches within the discipline, which studies motion and force as applied to biological systems  One branch investigated and quantified joint-segment work. The second looked at whole-body energy change estimates. But the biomechanical outcomes didn't add up.
Zelik's multi-scale investigation of human locomotion resolved the discrepancy and led to influential research that showed the role of soft tissues, separate contributions to walking from the hip and foot muscles, and the importance of ankle push-off during walking.
"Unifying the research across physiological measurement scales improves our understanding of how it all works together, and informs how we design and control assistive devices" he said.
With concurrent appointments as an assistant professor of biomedical engineering and assistant professor of physical medicine and rehabilitation, Zelik uses techniques from engineering, biomechanics, bio-signal analysis and neural control to study human locomotion. He directs Vanderbilt's Biomechanics & Assistive Technology Laboratory, which uses state-of-the-art equipment such as a force-instrumented treadmill, portable respirometry (oxygen measurement) system, ultrasound imaging, and muscle activity sensors to understand human movement.
In 2016, Zelik received a National Institutes of Health (NIH) Career Development Award through the Interdisciplinary Rehabilitation Engineering Program. Zelik's research lab currently receives funding from the NIH, National Science Foundation, Vanderbilt University and industry sponsors. He also previously received a Whitaker International Post-Doctoral Fellowship, an NSF International Post-Doctoral Fellowship, and an NSF Graduate Research Fellowship.
Media Inquiries:
Pamela Coyle, (615) 343-5495
Pam.Coyle@Vanderbilt.edu
Twitter @VUEngineering