Alumni share experiences and advice at annual scholar athlete – ROTC dinner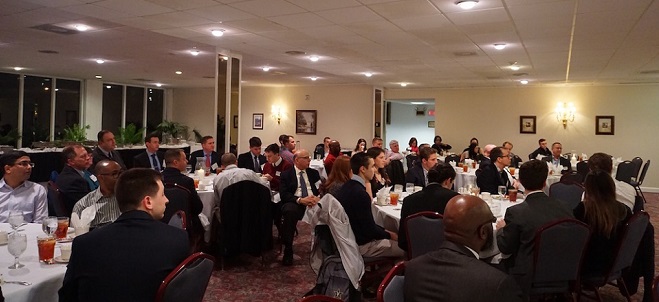 Say "Yes!" to opportunities outside your comfort zone. Shine your own star. Become comfortable with your ignorance. Chase excellence, not success. Hire people who are good at what you are not.
Two School of Engineering alumni offered those and other suggestions to engineering students at the annual dinner recognizing SEC scholar athletes and ROTC cadets this week. Nearly four dozen undergraduates juggle the demands pursuing an engineering degree and rigorous training in their sport or service branch of choice.
Amanda Pommerenck (BE'97) is a third-generation Vanderbilt graduate whose professional life did not unfold as she expected. A U.S. Army veteran, she was commissioned as an Engineering Officer after receiving her bachelors in civil engineering. She's now a high-ranking leader in the Engineering Directorate of the U.S. Army Corps of Engineers, overseeing architect-engineer contracts at the Huntsville, AL, center.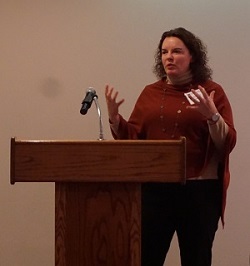 The unexpected twists started early. As a new officer stationed in Germany, she jumped at the chance to go to Uzbekistan during the Thanksgiving holiday because other, more senior officers did not want to make the trip. She said, "Yes!" when the head of a construction company in Savannah offered her a job overseeing residential home building even though she knew nothing about building homes. She was at the office as a home buyer.
She started with the Corps in the Savannah District as a project manager and was involved in the construction of a new Infantry Brigade Combat Team support site encompassing 450 acres and including approximately 20 new buildings and a major renovation to the Winn Army Community Hospital.
Pommerenck closed with a simple suggestion. "Meet new people," she said.
At a training event in Seattle, the man she sat next to also worked for the Corps in Huntsville though they had never met. Three months later he offered Pommerenck the job she has now.
"Don't worry so much about what you think you are supposed to do," Pommerenck said, citing the Corps' motto: Essayons. That's French for "Let Us Try."
As a biomedical engineering student, Dr. Thomas David (BE'10, MD'14) was an Ingram Scholar and a member of the men's cross country team. His senior design team won the Thomas G. Arnold prize for its work designing a biogas digester to provide affordable energy in Bangladesh.
At Monday's dinner, David also urged students to try. But maybe not too hard.
"What if intensity leads to being overly focused?" he said. "You mind gets too narrow. Cross country running is how I learned to let my mind relax. When you care a bit less you tend to be a better problem solver and you get more creative."
David recently finished his residency at Vanderbilt University Medical Center and now is an emergency medicine physician in Louisville, KY. He recalled how he and other undergraduates bristled when an electrical engineering professor assigned a problem but offered no clues to solve it.
It was important practice for what was to come.
"No one is going to give you a problem and teach you solve the problem before they give it to you," he said.
This was the fifth annual dinner, a tradition School of Engineering Dean Philippe Fauchet started to recognize scholar athletes and ROTC participants for what amounts to double duty.
"I feel your pain and know you sacrifice a lot," Fauchet told the students. "I know firsthand we don't make your lives easy."
The students recognized are listed below.
SEC ATHLETES
First-year students: Lauren Bergmann (ME, Women's Swimming); Edward Harpstead and Caleb Van Geffen (BME, Men's Cross Country); Saben Lee (ES, Men's Basketball); Alex Maxey (CS, Football); Lauren Potechin (ES, Women's Bowling); Mikala Rhody (BME, Women's Soccer); Keithian Starling (BME, Football); and Regan Clay (Undeclared, Women's Track).
Sophomores: Kacie Breeding and Kendall Derry (BME, Women's Cross Country); Maria Bulanova (CE, Women's Bowling); Abbey Carlson (ME, Women's Golf); Andrew Irvine (CS, Men's Cross Country); Michael Sandborn (CS, Baseball); and Harrison Thomas (BME, Men's Cross Country).
Juniors: Caleb Casolaro (BME, Men's Cross Country); Fernanda Contreras (ME, Women's Tennis); Madison Eaker (EE, Women's Swimming); Kasey Eaton (EE, Women's Bowling); Waqqas Fazili (ChBE, Men's Cross Country); Kade Mayle (ES, Football); Kristen Quah (BME/EE, Women's Bowling); and Sara Tsai (ME, Women's Cross Country).
Seniors: Baffour Osei (ME, Football) and Ariana Perez (ChBE, Women's Bowling).
ARMY ROTC: Savannah Dubose (BME, '21); Nicholas Fauchet (CE, '21); James Haley (EE, '20) ; and Savino Brusco and Johnny Fangmeyer Jr. (CE, '19).
MARINES ROTC: Samuel Elkins (ME), Justin Stone (EE) and Colburn Wagner (EE), all seniors; and Timothy Degan (ES, '21).
NAVY ROTC: Jacob Hardy (ME, '21); Peter Valerius (ME, '20); Christopher Walding (ChBE, '20); Joshua Stafford (CS, '19); and Ryan Shea (EE, '18).
Posted on Tuesday, February 13, 2018 in engineering undergraduate, ROTC, student-athlete, U.S. Army Corp of Engineers,Alumni, Biomedical Engineering, Chemical and Biomolecular Engineering, Civil and Environmental Engineering, Electrical Engineering and Computer Science, Mechanical Engineering, News, News Sidebar