BME postdoc joins Academic Pathways fellowship program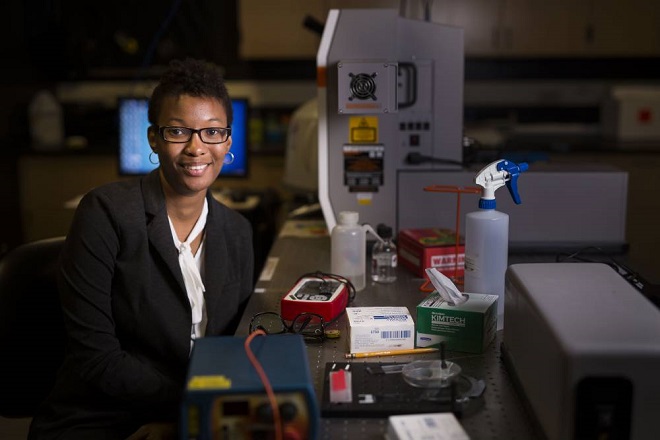 A biomedical engineer who has specialized in developing affordable, portable and rapid point-of-care glucose management devices is in the second cohort of fellows in Vanderbilt's Academic Pathways Postdoctoral Fellowship program.
The program serves as a bridge between academic training and entry-level faculty positions with a particular emphasis on scholars with diverse backgrounds and experiences.
The second cohort comprises four scholars, including Andrea Locke, who obtained her doctorate in biomedical engineering from Texas A&M University, where she also completed her bachelor's degree. She specialized in developing affordable, portable and rapid point-of-care devices for monitoring of glucose levels for improved diabetes management, detection of oral cancer and determination of gut function.
At the School of Engineering, she will be mentored by Anita Mahadevan-Jansen, Orrin H. Ingram Chair in Biomedical Engineering, where she can expand her expertise in in vitro detection to designing in vivo diagnostic tools. Locke will be applying in vivo Raman spectroscopy for rapid detection of inflammation and infection in children, while investigating alternative ways of developing non-invasive approach using Surface Enhance Raman Spectroscopy.
The Academic Pathways program provides fellows with professional development training, to enable them to develop the "soft skills" vital for success in today's academic setting and a robust mentoring framework in addition to a traditional postdoctoral research experience. The program run by the Office of Postdoctoral Affairs in the Vanderbilt Graduate School is sponsored by the Office of the Provost with additional funding from the Alliances for Graduate Education and the Professoriate of the National Science Foundation.
"I am grateful that we're able to bring these exceptionally talented young scholars to Vanderbilt," said Clare McCabe, Cornelius Vanderbilt Professor of Engineering, associate dean of the Graduate School and director of the Office of Postdoctoral Affairs and Academic Pathways program. "I'm looking forward to seeing all that they achieve during their time here."
The other three new fellows are working with faculty in the College of Arts and Sciences, the Owen Graduate School of Management and Peabody College of education and human development.
The deadline for the 2019 Academic Pathways Fellowship is November 1.
Finalists for the fellowship visit Vanderbilt in late February and meet with faculty and students from prospective host departments to present their work, exchange ideas and develop a research concept. The on-campus visit concludes with a capstone symposium, including research presentations by finalists and a brief summary of a collaborative research concept.
For questions and additional information regarding Academic Pathways, please contact academicpathways@vanderbilt.edu.
Posted on Tuesday, October 2, 2018 in Academic Pathways Fellows, Anita Mahadevan-Jansen, Clare McCabe, diabetes, point-of-care diagnostics,Biomedical Engineering, Home Features, News, News Sidebar, Research