BME student and Melodore gets advanced course in violin making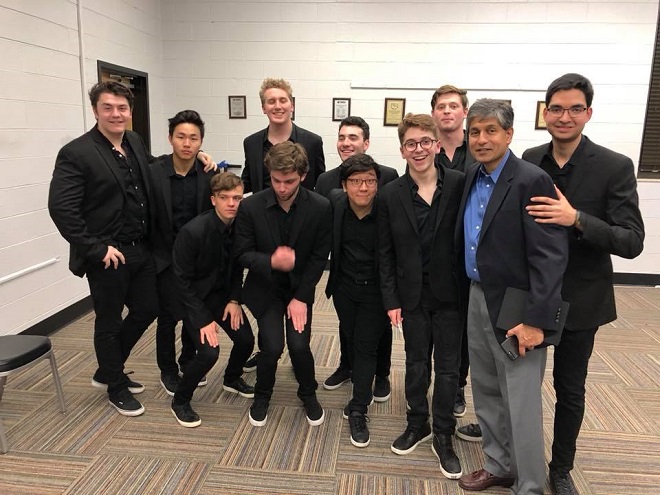 Shaan Ramaprasad is quite pleased with his new violin and not only because he likes the sound – which is much more full and rich than it was three months ago.
Ramaprasad, a senior in biomedical engineering, began playing violin at age four. He admits he hated it for at least four years but then the instrument and the options it presented changed his mind. He grew to love it and wanted to build his own, one with the sound he sought.
So he did. Under the mentorship of a 94-year-old World War II veteran and consummate fiddle-maker he befriended several years ago, Ramaprasad crafted his own violin. When he finished the project and produced the first tones, he was concerned.
"I pulled the bow across it and thought, 'It's a dud,'" he said.
J.W. Green, his mentor, knew otherwise. He told Ramaprasad the violin sounded really good and recommended patience. Give it a few days, Green suggested. It will really open up.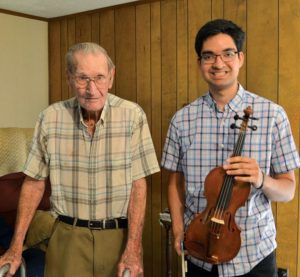 Ramaprasad has not been disappointed.
"It was a different violin four days after I finished it and it is different now," he said. "The tone really carries."
As the musical director – and a beatboxer – for the Melodores, Ramaprasad arranges most of the songs for Vanderbilt's award-winning a capella group. A native of Morristown, Tennessee, he has a side gig performing at weddings, special events and as a session musician. He counts Antonin Dvorak and John Williams among favorite composers, and his personal taste in playing music trends toward orchestral pop, akin to The Trans-Siberian Orchestra, rather than the traditional symphony repertoire.
A classic symphony musician would not choose the violin he made, Ramaprasad said. "It has a raspier tone. It is almost like there is a breath in it when you play."
The instrument has the tone he wanted and he had looked for some time. During a high school music camp trip to Italy, he sought out European violin makers but didn't find the right sound. The violin he made has a neutral tone played through a microphone, making it ideal for the styles and settings Ramaprasad prefers.
He doesn't consider himself a vocalist. Playing the violin is where Ramaprasad finds his voice. As a senior juggling classes, the Melodores, a senior design project and post-graduation planning he does not get much time to practice. When he does he often plays in Alumni Hall, late at night when no one else is around, enjoying how his voice made of spruce and maple sounds in the open spaces covered in their own wood.
"I've always found I can be really vocal through the violin," he said.
Building an instrument combines engineering, woodworking, physics and passion. The back, sides and neck are maple, which as a denser wood acts as the bass and carries the lower tones. The front is spruce. Its lighter weight produces greater vibrations and higher tones.
The material came from a company Green uses that specializes in European woods, and he was a wonderful teacher. Ramaprasad knew he had to make a violin and also knew the summer before graduating from Vanderbilt was likely the best chunk of time he'd have in the near future. He worked on the instrument for ten weeks, an accelerated education most apprentices spend years getting with master fiddle makers.
For five decades Green, a native of Louisiana, has made fiddles. After World War II he traveled around the U.S. as a pipe-fitter. He settled in East Tennessee and started building guitars, though the wood became too expensive. He tinkered with gun stocks before turning to fiddles. Green doesn't advertise but violin and fiddle connoisseurs find their way to him.
Ramaprasad already owned a Green instrument – a five-string violin that seemed destined to be his. It and the new violin are his favorites to play. For now. He is not sure what he will do after graduating in May but knows his future includes building another violin.
"I plan to start on it," Ramparasad said. "It will take a lot longer but it is something I definitely have to do."
He made the recording below of Meditation de Thais by Jules Massenet to thank Green and "the friends I've made along the way, and everyone who's been so supportive of me during this process."