BME student dancers find joy, community, and stress relief at the barre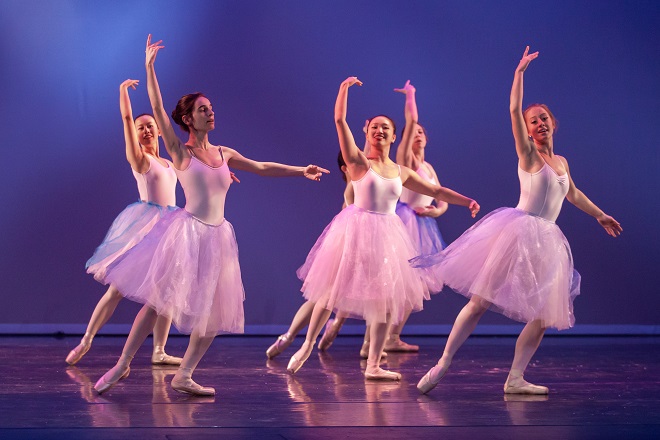 Nearly everything falls away when Danielle Liu performs – classes, labs, deadlines, stress. Everything, that is, but excitement and joy.
"When I'm performing, everything is out of my brain except the character," she said. "I'm filled with excitement and joy. You are in your own mental head space, and it is almost like a time to meditate."
Liu, a junior biomedical engineering major, is one of two engineering undergraduates in VUPointe Ballet Theatre, a student-run ballet company. She and Dominque Szymkiewicz, a senior BME major, have been with the company since it started in 2016. Both began dancing as young children.
They performed recently in VUPointe's annual production of The Nutcracker, which drew an audience of more than 450 at Ingram Hall. This year, as a senior, Szymkiewicz danced the pivotal role of Clara and also served as production manager. As the latter, she added a few touches that likely would not fly in a traditional professional company performance of the holiday classic. One dancer walked around with a wine glass. Another had her eyes locked on a textbook. A third was in her own world, talking selfies as the chorus danced.
"We wanted some quirks," Szymkiewicz said.
VUPointe is a small company with 19 dancers, and both Szymkiewicz and Liu had more than one role in The Nutcracker. Liu's main role was in The Arabian, a haunting, exotic pas de deux, and she also danced with the chorus.
The BME majors make time for an art form they love. Rehearsals begin at the start of each semester and take place on Fridays, Saturdays and, if needed, Wednesdays. The group began preparing for this performance in April 2018. The 2019 spring production on April 3 will showcase excerpts from Prokofiev's Cinderella.
Dancing, they said, not only brings them joy but also provides unparalleled stress relief.
"It is really such a stress reliever," said Liu, who is from Gainesville, Florida. "Your mental health is really tried during college. You need something to let loose, something that relaxes you.
"I like having a community that focuses both on academics and a love of the arts," she said.
From engineering to ballet is not an impossible leap. In ballet, you memorize and train steps and techniques and apply them to characters in a story, Liu said. In engineering, you memorize your tools and apply them to solve a problem.
"They are similar in sense that both of them are very strict," said Szymkiewicz, who is from Miami, Florida. "For both you are looking for perfection. In engineering, you want a p value of this. In ballet, you want your leg here.
"You can get to the solution in a few different ways," she said. "Both require a lot of hard work."