Clark Scholars mingle with foundation and university leadership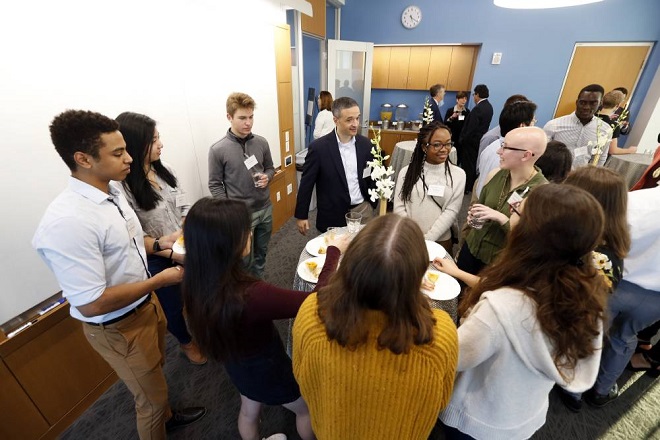 Now a group of 20 students, the A. James Clark Scholars at the School of Engineering met recently with members of the foundation that endowed the program as well as top Vanderbilt officials.
The Clark Scholars Program is the signature academic program of the A. James and Alice B. Clark Foundation. It emphasizes three key components—engineering excellence, business acumen and service learning—characteristics the late A. James Clark embodied and wished to cultivate in others.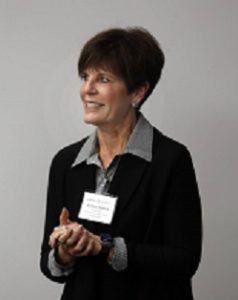 Courtney Clark Pastrick, chair of the foundation's board and a member of the Vanderbilt Board of Trust, and Philippe Fauchet, the Bruce and Bridgitt Evans Dean of Engineering, were among those who shared brief remarks.
"In many ways Jim Clark was ahead of his time," Fauchet said. "He saw that technical training was only part of the equation. He believed that engineers can and should do more than build – they should lead and inspire.
"His vision lives on in the faces of these young engineers standing among us," Fauchet said.
The program, made possible by a $15 million gift from the Clark Foundation, admitted its second cohort of 10 students for the 2018-19 academic year. The late-afternoon reception on in early November gave the students, donors, and university leaders a chance to meet and mingle.
Others in attendance included Joe Del Guercio and Natalie Grandison from the Clark Foundation; Christopher Rowe, program director and associate dean for external affairs, as well as Vanderbilt executive leadership and trustees.
Click here to learn more about the program's history at Vanderbilt.
Posted on Friday, November 30, 2018 in Clark Scholars,Alumni, Biomedical Engineering, Chemical and Biomolecular Engineering, Civil and Environmental Engineering, Electrical Engineering and Computer Science, Home Features, Mechanical Engineering, News, News Sidebar