Company co-founded by BME alumnus launches design platform for custom fit products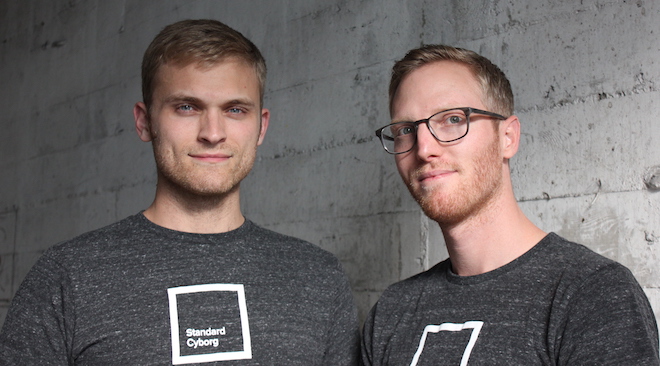 When it began, Standard Cyborg set out to make design of custom-fabricated orthotics and prosthetics easier and quicker – especially in parts of the world with limited medical resources, where the needs are often the highest.
Cofounders Garrett Spiegel, BE '10, and Jeffrey Huber, a serial entrepreneur, did just that. Standard Cyborg's software is used across 23 countries on six continents. Thousands of patients have been helped through provider partnerships with private and non-profit clinics, NGOs, governmental entities and research groups.
Forbes put the pair on its 2018 "30 Under 30" list in the healthcare category and Standard Cyborg, based in San Francisco, remains part of the well-connected Y Combinator community. Huber, who was born with fibular hemimelia and wears a prosthetic leg below his left knee, received training, mentoring and seed funding in from the prominent Silicon Valley start-up lab in 2015.
With a solid and growing customer base for its O&P software, Standard Cyborg is expanding its capabilities to support custom design of other products, such as shoe inserts, fracture casts, knee braces and more. The team has developed what Spiegel calls a "geometry engine," a platform that enables design of custom fit products for the body at mass scale.
"We always knew this was the piece of software we wanted to build," said Spiegel, who founded the Vanderbilt chapter of Engineering World Health and is involved with the School of Engineering's Alumni Mentor Program.
Think of it as CAD software built specifically for custom manufacturing. In standard manufacturing, designing a component may take days or weeks but that cost is effectively spread over thousands or millions of units.
The design cost for a custom prosthetic socket or shoe insert or even a football helmet is another matter entirely. Hiring 50 CAD engineers to design custom pieces, even in two or three hours, is too costly – for both companies and then ultimately to the customers. Every startup or established company that wants to produce affordable custom products – helmets, shoes, orthopedic braces, hearing aids, dental aligners, glasses, orthopedic implants, and more – slams against the same barrier, Spiegel said.
Even when the goal is to simply take a scan of a person's face, torso, or foot and correctly size a garment, set of glasses, or pair of shoes, companies run into often insurmountable technical challenges given the existing tools.
Now, with Standard Cyborg's new platform, designers can spend two hours on a product but save the work and automate changes so each additional piece takes seconds or minutes. The platform enables one time setup and then scalable production with automatic design of custom products or instantaneous sizing.
"We've created a generalized set of geometry tools that means companies don't have to reinvent the wheel," Spiegel said. "This will be a system that removes a lot of hurdles. It is a big pain point."
Standard Cyborg, which announced the platform online and at the 3DHEALS Conference in April 2018, is working with a handful of companies with custom products to test its ability to scale production.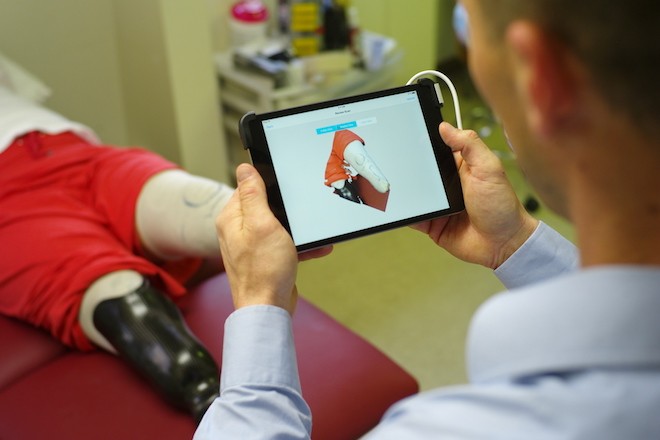 The company's initial focus was on custom prosthetic sockets because poorly fitted ones cause pain, sores and other complications. The software enabled providers to see multiple patients quickly, an asset for remote areas and mobile clinics, and use a customized iPad app to take scans. With an internet connection and an iPad or any modern laptop they could view the scans in full color, modify the 3D model and design the final shape. The approach is faster, cleaner and more repeatable than working with plaster. And instead of creating a pile of old molds, providers can maintain a digital library of patient models.
Among the notable entities using Standard Cyborg's orthotic and prosthetic design technology: Ossur North America; The U.S. Veterans Administration; Doctors Without Borders in Jordan; the Range of Motion Project in Ecuador; LimbForge in Haiti; ARM in Japan; Baylor College of Medicine's Center for Global Initiatives in Sri Lanka and Tanzania; and the University of Michigan Biomedical Manufacturing and Design Lab.
For Spiegel it is familiar territory. After graduating from the School of Engineering he was a program associate in Global Health Technology at Rice University, where he managed the design and development of the Dose Right Syringe Clips. The clips have been a cornerstone of Swaziland's efforts to prevent HIV transmission from infected mothers to their newborns and infants.
From there he worked at D-Rev for more than three years, including two as product manager. Spiegel was behind the product development strategy and technical design of products to treat jaundice in over 415,000 newborns in 50 countries.
"I was always interested in healthcare and improving people's health but I knew my skill set and interests wouldn't be the medical practitioner route," Spiegel said. "I'm more of a systems-level thinker."
At Vanderbilt, he made two trips to Guatemala as part of Associate Dean Cynthia Paschal's class on medical device design for developing countries. That project continues, and BME undergraduates spent their 2018 break week in Guatemala, working alongside 30 engineering students and their professors from a Guatemala university repairing medical equipment at four hospitals.
Paschal was "a great mentor" said Spiegel, "We looked at medical devices as a way engineers can contribute to improved health an increased access to healthcare."
Media Inquiries:
Pamela Coyle, (615) 343-5495
Pam.Coyle@Vanderbilt.edu
Twitter @VUEngineering
Posted on Monday, June 11, 2018 in alumni, Cynthia Paschal, entrepreneurship, Garrett Spiegel, prosthetics, software development, startups,Alumni, Biomedical Engineering, Electrical Engineering and Computer Science, Home Features, News, News Sidebar