Creativity, curiosity, community on display during E-Week 2018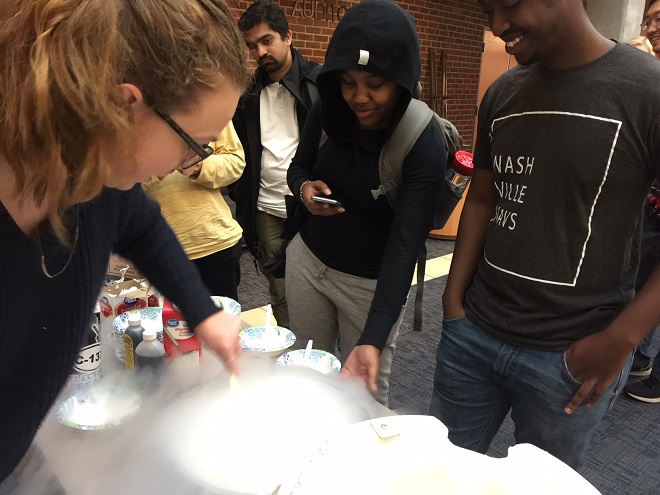 New events, student organizations, and challenges highlighted E-Week 2018, a lineup designed to spark interest in engineering and remind students what got them excited about studying engineering in the first place.
The Engineering Council, which pulls the week together each year, added daily scavenger hunts with prizes on Snapchat. Themed Entertainment Association at Vanderbilt, a new student organization, made its E-Week debut with a two-hour carnival that included Jenga, cotton candy spinning (and eating) and a preview of an upcoming national theme park ride or related design challenge. The Vanderbilt Chapter of Women in Computing, which launched in 2017, again partnered with VandyApps and VandyHacks to host an event. Last year it was the Destructathon. This year, it was a Paraffin Hand Spa.
Nevertheless, the Destructathon, a classic in which laptops are dismantled for recycling, still unfolded in the Featheringill Hall atrium. So did liquid nitrogen ice cream-making (and eating), sponsored by Theta Tau; a school supply drive, sponsored by Engineers Without Borders, to benefit children in Guatemala; a faculty appreciation lunch; a trivia contest; and other oddities.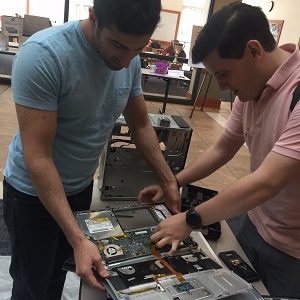 "This year's E-Week was one of the biggest on record, with hundreds of students from across every major joining in the fun," said E-Council President Christian Motyczka, a computer science senior. "We were excited to have so many new and different organizations partner with us.
"We were able to connect with students of every fold from all across the School of Engineering, which is really what E-Week is all about," he said.
Participation in each event, from bubble soccer to drop-by-gaming to an egg drop contest and a paper airplane challenge, earned students points for their major in the race to the big prize – The Engineering Cup. This year, computer science won by a slim margin. Last year, a combined electrical/computer engineering took the prize.
"I see E-Week as a great way for engineering students to bond over fun activities spread throughout the week," said Miti Joshi, a computer science junior and WiC president. "This is a fantastic initiative that serves to further strengthen the community that exists in Featheringill because engineering students tend to spend a significant amount of time here anyway."
Part stress relief, part outreach, the week also involved training and service opportunities. The week coincided with the national observance, established by the National Society of Professional Engineers in 1951, to promote the profession and ensure a diverse and well-educated workforce.
Engineering World Health sponsored an event at which students received ECG simulator kits to build for training purposes. Each package resistors, integrated circuits, a board, capacitors, and other components, and students had to solder the kits together, said Aidan Pace, a biomedical engineering sophomore.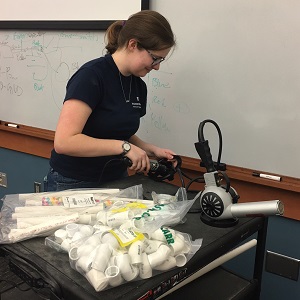 The Biomedical Engineering Society continued its work with Go, Baby, Go, an organization that modifies children's 12-volt cars for children with disabilities to provide fun and adaptable mobility solutions.
BMES members worked on three cars during its E-Week Buildathon, and one is headed for the Susan Gray School, which is part of Peabody College on the Vanderbilt campus.
"It was designed to be adaptable to meet a number of children's needs," said Seiver Jorgensen, a biomedical engineering senior and BMES community outreach co-chair.
The student chapter of the American Society of Civil Engineers (ASCE) organized a display of art by students – all engineering majors – that ranged widely in medium, style and subject matter.
The E-Council, Motyczka said, welcomes the chance to provide a platform for engineering students and organizations to showcase their unique talents, and "we're looking forward to making these connections even more worthwhile."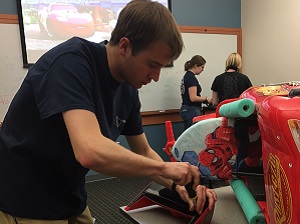 Additionally, nearly 60 seniors took the oath of the Order Of The Engineer and received steel rings that symbolize their commitment to professional, ethical behavior.
"E-Week is one of my favorite times of the year because there's always something fun or silly in the atrium and it's a great way to goof off between classes," said sophomore Braden Barnett, president of the new Themed Entertainment Association group. "It makes me excited to go to class in the morning."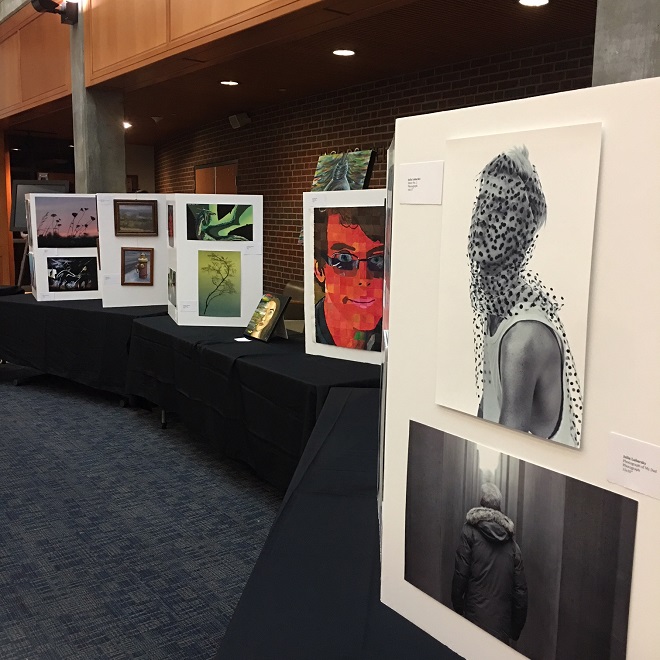 Posted on Sunday, February 25, 2018 in ASCE, BMES, E-Week, Engineering Council, Theta Tau, VandyApps, VandyHacks, Women in Computing,Biomedical Engineering, Chemical and Biomolecular Engineering, Civil and Environmental Engineering, Electrical Engineering and Computer Science, Mechanical Engineering, News, News Sidebar