Cynthia Reinhart-King to serve on National Academies inaugural New Voices panel
Cynthia Reinhart-King, Cornelius Vanderbilt Professor of Engineering and professor of biomedical engineering, is one of 18 early-career leaders selected by the National Academies of Science, Engineering, and Medicine to serve on New Voices in Sciences, Engineering, and Medicine, a pilot initiative to engage a diverse network of emerging leaders in SEM fields across the United States.
The New Voices panel will work over a two-year period with a senior advisory committee to identify other early-career SEM leaders to help articulate and communicate the evidence base for addressing national and global challenges.
Another goal is to provide new perspectives on issues of importance to The National Academies, and to help expand the diversity of expertise that is brought to all of the Academies' convening and advisory activities.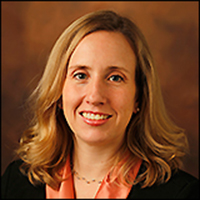 Reinhart-King is a cellular bioengineer whose seminal work on extracellular matrices has contributed to a breakthrough in understanding cancer progression. She was one of the first to show how the matrix, or the non-cellular glue in all tissues and organs, can stiffen when a tumor forms and promote tumor growth, and interfere with the effectiveness of cancer treatments. The citations of her cellular bioengineering research number is in the thousands.
Reinhart-King joined the Vanderbilt School of Engineering faculty in early 2017 after ten years on the faculty of Cornell University.
She is a fellow of the Biomedical Engineering Society and the American Institute of Medical and Biological Engineering. Her recent service to the BMES includes program chair of the 2016 Annual BMES Meeting, current co-chair of the National Meetings Committee, and member of the Board of Directors, 2014-2017. In 2010, she received the society's Rita Schaffer Young Investigator Award.
In 2016, Reinhart-King was a U.S. Frontiers of Engineering Symposium speaker. Hosted by the National Academy of Engineering, the meeting brought together about 100 engineers under the age of 45 from industry, universities and federal labs to promote cross-disciplinary exchange and transfer of new techniques.
In addition to a number of awards and honors, she is the recipient of a NSF Faculty Early Career Award, an editorial board member of Biophysical Journal, and she is a standing member of the NIH CMT study section. Reinhart-King is a F1000 faculty member. In that role, she helps identify the most exciting and important research related to the cytoskeleton across the field of cell biology by contributing recommendations and reviews.  She has also won numerous awards for teaching and mentoring.
Contact: Brenda Ellis, 615 343-6314
Brenda.Ellis@Vanderbilt.edu
Posted on Friday, June 8, 2018 in and Medicine, biomedical engineering, Cornelius Vanderbilt Professor of Engineering, Cynthia Reinhart-King, engineering, National Academies, National Academy of Engineering, New Voices in Sciences,Alumni, Biomedical Engineering, Home Features, Media, News, News Sidebar