From 3-D printed bones to refueling drones, check out Design Day April 23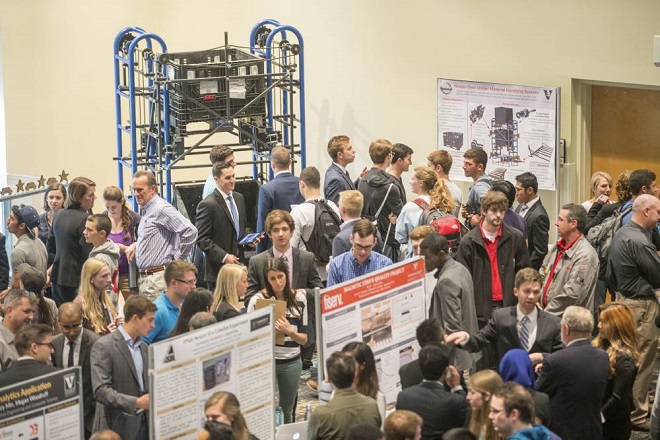 With the start of each new academic year, engineering seniors don't get the luxury of easing in to their capstone design projects.
Discussion of potential projects and the rigorous process begins with the first or second meeting of the two-semester course. Sponsors and professors present project needs and, depending on the department, students rank their top choices.
By the second week, "things get real," said Thomas Withrow, assistant dean for design and associate professor of the practice of mechanical engineering.
This year's showcase is Monday, April 23, from 3-6 p.m. in the Student Life Center. The event is free and open to the public.
On display throughout the large SLC ballroom will be about 60 projects by teams in biomedical engineering, chemical engineering, civil engineering, electrical engineering, mechanical engineering and computer science.
A seven-person interdisciplinary team jumped at the chance to tackle mid-flight drone refueling. Four biomedical engineering majors liked the idea of a project with immediate clinical application – 3-D printed (broken) bones to aid in surgery planning. The Vanderbilt Aerospace Design Laboratory, with 12 students on two teams, created a rocket with sectional roll control that can detect and photograph targets on the ground. Teams designed ways to use 3-D printing in space and use ultrasound to reproduce near objects and tools for divers in deep, murky water. They improved chemical manufacturing processes, reduced energy consumption and enhanced wheelchair motion.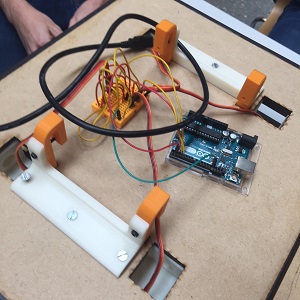 "We are asking more of our students," Withrow said. "Senior design courses provide students with experience working on real-world projects that involve design constraints, budgets, reviews and deadlines. Students learn about professionalism, licensing, ethics, entrepreneurship and the day-to-day implications of intellectual property."
Among the projects:
A portable, collapsible, solar-powered 3-D printer;
Several projects for Sterling Ranch, a sustainable community under construction a few miles south of Denver, including smart light poles that illuminate with the approach of pedestrians or vehicles, energy storage, and a model home for educational use;
An in-ear device for ICU clinicians that produces varied sounds for patient alarm severity along with a haptic (vibrating) sensor to minimize alarm fatigue for patients and physicians;
A custom three-fingered hand extension for a robotic arm used in auto manufacturing;
A rainwater collection system for a village in Kenya; and
Site design for affordable housing in Madison, TN, with multifamily units, townhomes and single-family homes.
Corporate sponsors this year include Nissan North America, Siemens, Metova, DENSO, MAX Mobility, RoWheels, Xcel Energy, Tesla, Halma Holdings, Polymer and Chemical Technologies, and Geeks and Nerds. Federal agency sponsors include NASA's Marshall Space Flight Center, NAVSEA, and the U.S. Supervisor of Salvage.
Multiple Vanderbilt and VUMC departments sponsored projects and provided advisers – Vanderbilt Campus Planning, Green Fund and Eye Institute and VUMC anesthesiology, critical care medicine, neurology, orthopaedics, pharmacology, radiation oncology, and patient care informatics among them.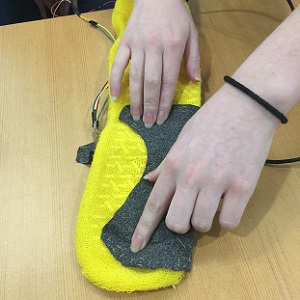 The work done in design is the intellectual property of the participating companies, which means legal negotiations are unnecessary. This allows collaboration with participating companies and students gain real-world experience. Teams meet with their clients to define the challenge, create a strategy, build a timeline, assign responsibilities, set deadlines and manage customer relations.
The 2017-18 faculty advisers in electrical engineering and computer science are Ralph Bruce and Jules White; mechanical engineering, Thomas Withrow and Jason Mitchell; biomedical engineering, Matthew Walker III; chemical and biomolecular engineering, Bryan Beyer, Russell Dunn and Scott Guelcher; civil and environmental engineering, Lori Troxel.
Media Inquiries:
Pamela Coyle, (615) 343-5495
Pam.Coyle@Vanderbilt.edu
Twitter @VUEngineering
Posted on Sunday, April 8, 2018 in 3D printing, Design Day, drones, immersion, robotics, Sterling Ranch, Thomas Withrow, VADL,Biomedical Engineering, Chemical and Biomolecular Engineering, Civil and Environmental Engineering, Electrical Engineering and Computer Science, Mechanical Engineering, News, News Sidebar