Duvall elected into AIMBE's College of Fellows
Craig L. Duvall, associate professor of biomedical engineering, has been elected a 2018 Fellow of the American Institute for Medical and Biological Engineering (AIMBE). He will be inducted at the Fellow Induction and Awards Ceremony April 9 at AIMBE's annual meeting in Washington, D.C.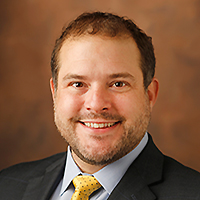 Duvall conducts research on advanced drug delivery systems designed for regenerative medicine applications including enhancing the performance of stem cell therapies for use in tissue engineering, stimulating healing of non-healing skin wounds, improving long-term performance of vascular bypass grafts, and reducing tissue destruction in degenerative diseases such as osteoarthritis.
His research on projects in these areas sponsored by the American Heart Association, the National Institutes of Health, the Department of Defense, and the National Science Foundation.
Duvall's achievements include a Presidential Early Career Award for Scientists and Engineers, the highest honor bestowed by the U.S. government on outstanding scientists and engineers early in their research careers; a National Science Foundation Faculty Early Career Development grant, and a Society for Biomaterials 2015 Young Investigator Award. Last week, he was named to Vanderbilt's 2018 class of Chancellor Faculty Fellows.
Duvall joined the School of Engineering in January 2010. He earned a Ph.D. in biomedical engineering in 2007 at the Georgia Institute of Technology.
Brenda Ellis, (615) 343-6314
Brenda.Ellis@vanderbilt.edu
Posted on Tuesday, January 23, 2018 in AIMBE, biomedical engineering, Craig Duvall, fellows,Biomedical Engineering, Home Features, Media, News, News Sidebar, Research