Engineering alumni return as firm reps at career fair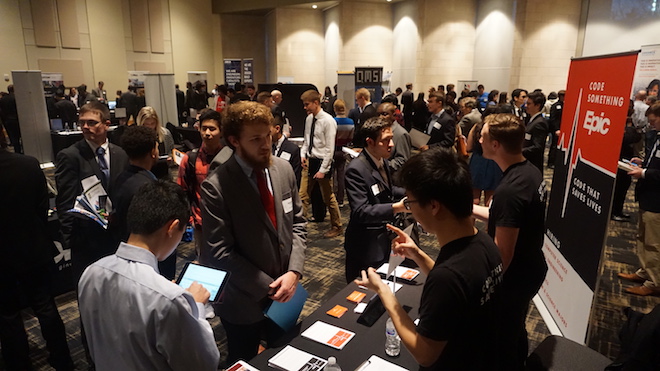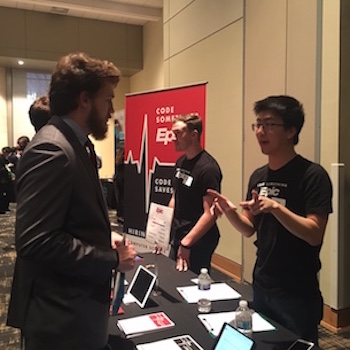 It hasn't been all that long since Houston Massey (BE'15) stood on the other side of the table at a career fair, nervously waiting to speak with company representatives.
On Monday Massey and Nanhva Jin, a 2013 graduate in computer engineering, staffed the table for Epic, a healthcare software firm that counts Vanderbilt University Medical Center among its clients.
They and representatives of 37 other organizations met with more than 350 students at the Engineering Career Fair in the Student Life Center.
Massey, who majored in biomedical engineering, said participating in career fairs as a company representative has made him rethink how he approached such events as an engineering student.
The goal, he said, is casual conversation.
"I'm not here to decide whether or not we are going to hire you," Massey said, urging students to relax. "I'm here to tell you about the company."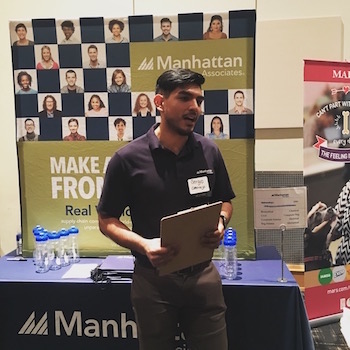 Epic was not alone in sending Vanderbilt engineering alumni. Other companies included Asurion, Red Clay, Facebook, and Manhattan Associates, among others.
Anne (Hopkins) Vaughn (BE'11) works at Asurion. Students, she said, are curious about the company, especially its work atmosphere, which she described as collaborative. Teams across departments are tasked with problem solving and have a good degree of autonomy, she said.
"It is really a great culture," said Vaughn, a civil engineering alumna.
Nashville-based Asurion just won three major awards from the Nashville Technology Council, including Company of the Year and Diversity Game Changer of the Year. Faker Zouaoui, the company's chief analytics officer, won the Data Scientist of the Year award.
At Red Clay, Raafeh Shahid works directly with utility clients to assess software needs.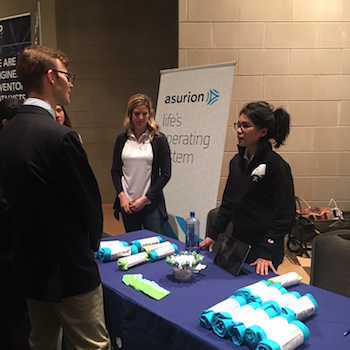 While Shahid does have some background in computer science, he said the engineering management program as proved invaluable. He just graduated in May 2017 with a major in mechanical engineering and an engineering management minor.
Other companies represented included Barge Design Solutions, Bridgestone, Consensys, Covance, Home Depot, Infosys, Mars Inc., OSI soft, and the Illinois and Georgia state departments of transportation.
NSPARC, a unit of Mississippi State University, was on hand, as were the representatives from the U.S. Marine Corps, the U.S. Navy, and U.S. Army Aviation and Missile Research Development and Engineering.
The three-hour event was organized by the Vanderbilt Career Center and School of Engineering officials."It is interesting to be on the other side of the table," Shahid said.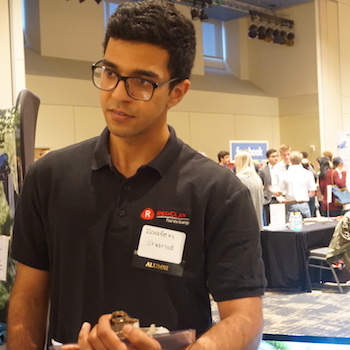 Also represented were AECOM; Altec, Inc.; ARCO/Murray National Construction Company DCS Corporation; EnSafe Inc.; Fast Enterprises, LLC; Gas South, LLC; Hazen and Sawyer; Kimley-Horn and Associates, Inc.; MAXIMUS; MicroStrategy; Nashville Electric Service (NES); Pond; Quality Manufacturing Systems, Inc.; Ramboll; Teletracking Technologies; Thomas and Hutton; Urban Science; and V5 Systems.
Posted on Wednesday, January 31, 2018 in alumni, career night,Alumni, Biomedical Engineering, Chemical and Biomolecular Engineering, Civil and Environmental Engineering, Electrical Engineering and Computer Science, Mechanical Engineering, News, News Sidebar