Engineering students anchor 2017-18 NCAA championship bowling team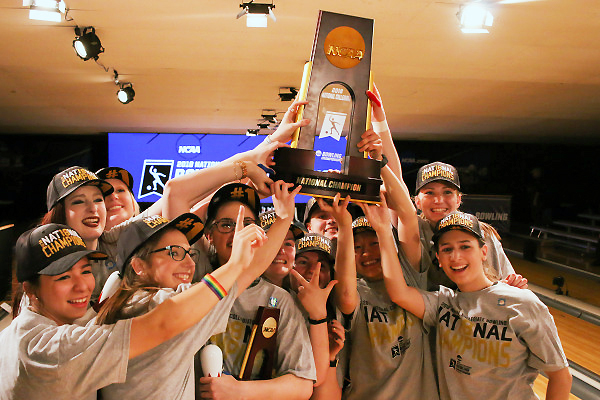 It's got math, physics, logic, precision and a nice slice of art.
No surprise, then, that engineering students comprised more than a third of the 11-person roster on Vanderbilt's 2017-18 NCAA Champion bowling team. The team clinched the title in April, its second national championship since Head Coach John Williamson started the program in 2004-05.
Just days earlier, Kristin Quah, a double major in biomedical and electrical engineering, became the first Vanderbilt athlete to win an ELITE 90 award, which is given to the player in each of NCAA's 90 events with the highest GPA in the NCAA championship field. At the time she was a junior with a 3.93 GPA.
"It was an amazing experience," Quah said. "When they called my name, everyone from the team, coaches and staff included, made so much noise that it drowned out the rest of the announcement. We know coming into school that it is not going to be easy, and I hope winning this award shows people that it is still possible to excel both in the classroom and on the lanes."
And Quah, who is from Singapore, and Maria Bulanova, a sophomore in civil engineering from Russia, were named to All-America teams.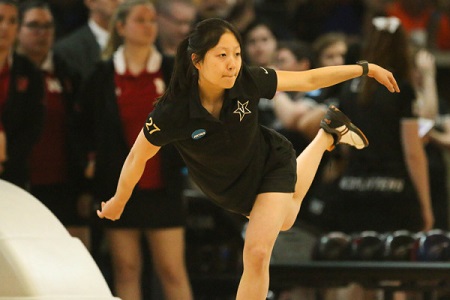 In addition to Quah and Bulanova, the team included Ariana Perez, '18, a chemical and biomolecular engineering major; and Lauren Potechin, a rising sophomore in electrical engineering.
"One of the things I love about bowling is that it's so much more than a physical sport," Potechin said. "I have always loved math and the sciences and bowling is pretty much a science in itself, like when you're deciding what ball to use and what board to stand on.
"It takes a lot of logical thought," she said. "I also love the competitiveness. It's the perfect balance between an individual sport and a team sport, as you can control the shots you make and you still have a whole team to support you."
Potechin, who is from Short Hill, New Jersey, bowled in a pee wee league when she was about 6 but didn't start bowling competitively or get coaching until her freshman year of high school.
Bulanova started in a bowling city camp near her dad's workplace almost 13 years ago. After she finished first in her age group in a small tournament, the bowling school that ran the camp offered her a spot and said they'd make a great bowler out of her.
Quah begged her parents for bowling lessons because she was tired of losing to her brother on family outings to the lanes. He's two years older and at the time was bowling with his school club.
"I then found out that I really enjoyed it and have done it since," she said.
She notes several traits bowling and engineering share.
"I like how it is a sport, but yet there is such a strong tactical aspect to the game that it is like solving a puzzle at the same time. I like to use the analogy that bowling is kind of like playing archery and chess together.
"There's obviously the part about it that is a precision sport and it is important that we have to be really accurate and consistent," Quah said. "However, what most people do not realize is that there is a very large aspect of the game that is dependent on the oil put on the lanes and how that changes as we throw each ball. When there is more oil, the ball goes straighter."
As more balls get thrown, however, they pick up the oil off the lanes and the ball sees more friction, increasing its likelihood to hook.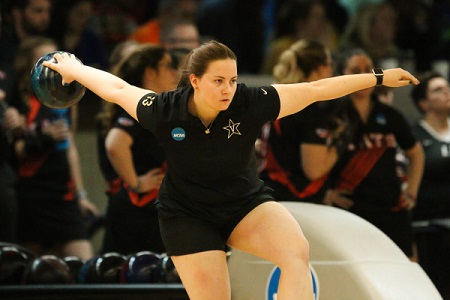 "It is really important to keep moving so that you can keep striking. It is like trying to come up with the right combination of what ball to use, how much rotation you want to put on the ball and where you want to be standing so that you can get it to turn the way you want it to give you the best chance to strike.
"There really is a lot of physics involved in the game," she said.
Though the team spent much of 2017-18 ranked fourth, it ended the season in first place in the National Ten Pin Coaches Association's (NTCA) final poll. The Commodores received 20 of the 25 first place. In voting by member head coaches of NCAA bowling programs, Vanderbilt received 20 of 25 votes for first place.
They'll start 2018-19 at the top with the NCAA title and some great memories.
"Although winning the championship will obviously be quite a memorable experience," Potechin said, "I think the moments I will remember most about this year are the ones where the team came together, whether it was supporting each other through a tough workout, spending Friday nights doing jigsaw puzzles, or just all gathering together in someone's room and laughing ourselves to tears."
Bulanova is most proud of how the bowlers acted as a team at end of the season. "We came in as a whole, as a team. We picked each other up and did not give up easily – that's what real teams do."