Family brings 2019 Rose Parade floragraph that honors son to Vanderbilt Nov. 29
Event to promote organ donation, recognize engineering alum is open to university, medical center communities
A talented young Vanderbilt mechanical engineer from Indiana had a job with the company he had interned with for three summers, an engagement ring for his girlfriend, and a promising life to lead until a fatal truck accident during a work trip to Arizona in May 2014, almost one year to the date of his graduation. He was 23.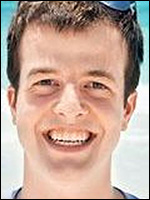 Because Justin Langford was an organ donor, today five lives have been saved and 70 lives have been improved through eye, tissue and skin donation, said Justin's father Bryan Langford.
Thursday, Nov. 29, Bryan and Janice Langford, and Kyle, Justin's brother and a Vanderbilt biomedical engineering graduate in medical school here, will share the important message of organ donation during a special event in Featheringill Hall's Adams Atrium at noon. The event is open to the Vanderbilt community.
Justin will be honored at the 2019 Rose Parade Jan. 1 in Pasadena, California, with a floragraph on the Donate Life parade float as the Indiana Donate Life Hero. The floragraph is a collage made entirely of organic material including seeds, spices and flowers — almost perfectly captures Langford's face and smile, Bryan Langford said.
The floragraph will be on display in Adams Atrium.
The Langford family has made it their mission to encourage others to donate life.  They had to make the decision four years ago in Flagstaff, Arizona, to allow the hospital to preserve Justin's organs. At 16, their son had checked the organ donation box when he got his drivers license.
The family has met some of the people who are living because of his decision.
"You've basically gained life," said Michael Valdez, who has Justin's kidney and pancreas. "It's like a second shot." Alex Taylor has Justin's other kidney. Fernando Zazeuta is living with Justin's heart. Janice Langford says she cherished the time she met Fernando Zazeuta because she could hear Justin's heart beat.
Valdez, 3-year-old Alex and Zazeuta were identified in a 2015 article about the family's inaugural Justin's Run 4 Hope in May 2016 to raise awareness of organ donation and funds for scholarships in Justin's name, one in the School of Engineering, plus another scholarship to be awarded a student from his other alma mater, Zionsville Community High School.
Many of those at the inaugural Justin's Run 4 Hope were faculty, alumni and students of the School of Engineering, a gift that Bryan Langford found overwhelming. "Just to see the Vanderbilt family come together to honor Justin and — more importantly — bond together in community for this special purpose, was deeply touching."
At Vanderbilt, Justin was a member of the nationally recognized Aerospace Club, the V-Squared mentoring program, and the Vanderbilt Variations a cappella group. He served as vice president of the Vanderbilt chapter of the American Institute of Aeronautics and Astronautics. Langford was a member of a five-student Aerospace Club team to represent the university at the 2013 inaugural SEC University Symposium and Showcase. In addition to his passion for singing, Langford enjoyed playing guitar and piano, running, rollerblading, cooking, reading and learning.
The Langford's are returning Thursday to deliver a message of hope to Justin's Vanderbilt family. And, to honor their Indiana Donate Life hero.
Contact: Brenda Ellis, (615) 343-6314
brenda.ellis@vanderbilt.edu
Posted on Friday, November 23, 2018 in 2019 Rose Parade, Indiana Donate Life, Justin Langford, mechanical engineering, organ donation,Alumni, Mechanical Engineering, Media, News, News Sidebar