Find the problem, define the mission, give back – Relode founders share story at Chambers Lecture
Matt Tant and Joe Christopher both graduated from Vanderbilt. They are mission-focused, share a strong faith and believe in paying it forward. Together they founded Relode, a health care staffing platform with growing traction and a successful $12 million Series A round.
But they could not be more different. And that, they say, is a big part of the startup's success.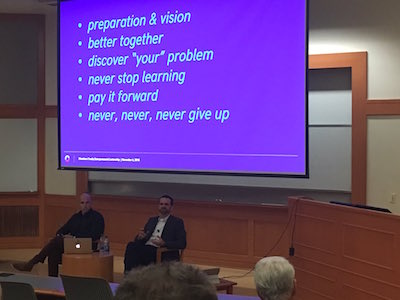 They delivered the School of Engineering's Chambers Family Entrepreneurship Lecture Nov. 8. "From Commodores to Co-founders" traced their college and professional journeys to Relode, where Tant is CEO and Christopher is CTO.
Tant, a former Commodore football player and San Diego Charger, spent 10 years in the professional staffing industry, from recruiter to regional executive to senior leadership. He had an idea – eBay meets recruiting – but circumstances and timing never aligned. Then he met Christopher, who describes his story as "the nerdy equivalent."
Christopher, BE '96, MS '98, said he takes a methodical approach to learning that includes reading and investigation. Tant, BA '05, said he runs through walls until it hurts to figure it out. Christopher is most comfortable working with other engineers and says he "can't relate" to people whose job means talking on the phone all day. Tant is a natural salesperson who spent plenty of time on the phone as a recruiter – and doesn't know anything about coding.
"Better together" is how the pair describes their combined journey to where Relode is now.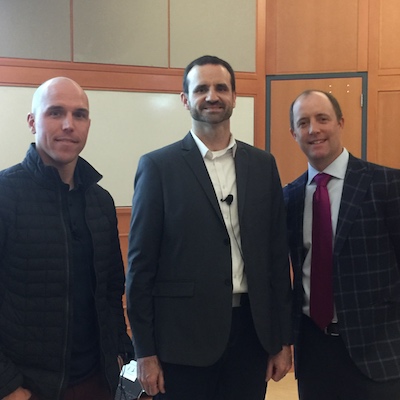 The mission is simple and bold: Upend the $23 billion health care staffing industry and save clinics money by greatly reducing their recruiting costs for physicians, nurses and other health professionals. Relode is a peer-sourced platform that pays individuals – not recruiting agencies – a fee for recommending a successful candidate. The company has grown 300 percent and is adding 15,000 candidates each month. It has more than 200 clients and 40,000 independent agents who have received nearly $15 million in awards.
Their advice? Seek out mentors and listen to them. Define the problem you want to solve and keep that mission front and center. Never give up. And find key collaborators with strengths you don't have.
"We have different learning styles and we put that together and it makes for a really strong team," Tant said.