Giorgio wins spot in 2018 NIH mobile health institute at UCLA
Todd Giorgio, professor of biomedical engineering, has been selected by the Center of Excellence for Mobile Sensor Data-to-Knowledge (MD2K) to attend a Mobile Health Training Institute at UCLA July 29-Aug. 3.
The summer institute seeks to advance biomedical discovery and improve health through mobile sensor big data.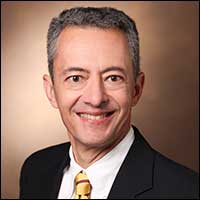 Participation is limited to 30 scholars for a weeklong immersion program that provides a grounding in the latest mobile health (mHealth) methodologies and contributes to team science. The team will develop mHealth solutions for real-world health problems while building an interdisciplinary scientific network.
MD2K teams design tools to make it easier to gather, analyze and interpret health data generated by mobile and wearable sensors. The goal of the big data solutions being developed by MD2K is to reliably quantify physical, biological, behavioral, social, and environmental factors that contribute to health and disease risk.
Giorgio's research focuses on the intersection of biomaterials, nanotechnology and immunology. "My interests include teaching wearable technologies in an interdisciplinary context, developing communities to design the next generation of wearables and devices that provide analytics on energy intake and energy expenditure," said Giorgio.
One of Giorgio's goals is to integrate academic, industrial and entrepreneurial communities at the intersection of wearable technologies.
"I would like to develop courses appropriate for a wide range of learners focused on the technology, usability, compliance and actionable utility of wearables," he said.
From a research interest perspective, Giorgio wants to explore how wearables can monitor normal and dysregulated metabolism as a tool for managing body weight.
Aimalohi Ahonkhai, a physician at the Vanderbilt University Medical Center, a professor of medicine and an infectious disease clinician with focused training in HIV medicine, also has been selected to attend the summer training institute.
MD2K is one of 11 national Big Data Centers of Excellence awarded by the National Institutes of Health as part of its Big Data-to-Knowledge initiative. The MD2K Center brings together scholars in computer science, engineering, medicine, behavioral science and statistics.
Some of the major activities that MD2K has undertaken include detection of smoking from respiration and wrist-worn accelerometers, detection of eating events using wrist-worn accelerometers and craving using respiration and ECG data, and predicting risk for adverse health events from marker data.
The MD2K Center, located at the University of Memphis, is supported by the National Institutes of Health Big Data to Knowledge Initiative Grant #1U54EB020404.
Contact: Brenda Ellis, 615 343-6314
Brenda.Ellis@Vanderbilt.edu
Posted on Friday, June 15, 2018 in BME, MD2K, mobile health, Mobile Health Training Institute, mobile sensor big data, NIH Big Data grant, Todd Giorgio, wearables,Alumni, Biomedical Engineering, Home Features, Media, News, News Sidebar, Research