Grad student wins first place in DOE nuclear R&D competition
Brandon Chisholm, a doctoral student in environmental engineering, has received a first place prize in the U.S. Department of Energy's 2018 Innovations in Nuclear Technology Research and Development competition.
Chisholm's award is in the energy policy category, and his award-winning research paper, "Preliminary Risk Assessment of a Generalized Molten Salt Reactor Off-Gas System," was presented at the 2017 American Nuclear Society winter meeting. The award includes a cash prize, participation in an Innovators Forum, and a trip to the 2018 ANS winter meeting in Orlando, Florida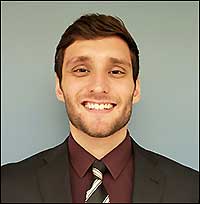 Chisholm's research focuses on incorporating safety into nuclear reactor designs. "Advanced nuclear reactor designs have the potential to be among the safest and most efficient options to produce clean electricity," Chisholm said.
"Our work focuses on developing and demonstrating a method to incorporate safety into the earliest stages of the design process in order to minimize the possibility of an accident that could impact the environment or public health."
Chisholm received a B.S. degree in nuclear engineering from North Carolina State University. In May, he received a M.S. degree in environmental engineering at Vanderbilt and he begins his third year of graduate study at Vanderbilt. His faculty adviser is Steven Krahn, professor of the practice of nuclear environmental engineering.
"I chose Vanderbilt's nuclear environmental engineering track because I see nuclear power as a responsible choice to produce clean and affordable energy and I have opportunity to participate on research projects that are really looking to maximize these aspects in the next generation of commercial nuclear reactors," he said.
"During my time here, I have been able to work with and learn invaluable lessons from many leaders in advanced reactor research and development, and I truly appreciate the department's multidisciplinary approach," Chisholm said.
Chisholm is the fifth graduate student in the Department of Civil and Environmental Engineering to receive a first place award in DOE competitions. The other winners are Bethany Burkhardt, Lyndsey Fyffe, Andrea Gardiner and Tim Ault.
The program awarded 23 prizes in 2018 for student publications and presentations relevant to the nuclear technology research. The Innovations program supports academia and the goal of the Department of Energy Office of Nuclear Energy to encourage innovative research in nuclear related disciplines.
Contact: Brenda Ellis, 615 343-6314
Brenda.Ellis@Vanderbilt.edu