Malin elected to National Academy of Medicine
Bradley Malin, professor of Biomedical Informatics, Biostatistics and Computer Science, is among 85 newly elected members of the National Academy of Medicine (NAM), the organization announced this week.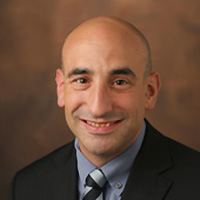 Formerly called the Institute of Medicine, the NAM was established in 1970 as the health arm of the National Academies. Both an honorific membership organization and an advisory organization, the NAM is a national resource for independent, scientifically informed analysis, providing recommendations on a broad range of health-related issues.
With more than 2,100 members, the NAM collaborates closely with its peer academies, the National Academy of Sciences and the National Academy of Engineering. Formed under a congressional charter, the academies operate outside the framework of the federal government.
Vanderbilt University currently has 33 members of its faculty (including those with emeritus status) who have been elected by their peers to the National Academies in recognition of excellence in their fields; 23 are members of the National Academy of Medicine.
"It is always gratifying to see the intellectual contributions from a member of our faculty recognized in this important way," said Jeff Balser, MD, President and CEO of Vanderbilt University Medical Center and Dean of Vanderbilt University School of Medicine. "Dr. Malin's research in biomedical informatics, and in particular the distinctive insights his work has provided toward policies concerning privacy protections for human research subjects, has brought him to prominence in the US and abroad. I want to offer our congratulations to Brad for this superb distinction."
"Dr. Malin's trans-institutional research addresses critical questions about the ethical and effective collection and use of data in organizational, political and health information architectures," said Susan Wente, provost and vice chancellor for Academic Affairs for Vanderbilt University. "We are delighted that he has received this tremendous honor for his exceptional scholarship at the intersection of some of the most complex and urgent questions of our time related to data science and privacy."
Malin joined Vanderbilt in 2006 as an assistant professor of Biomedical Informatics, becoming a full professor in 2017.
"It's an amazing honor to be thought of this way by your peers, as represented by a broad community such as the National Academy of Medicine. You don't do the work to receive this type of an honor. You do it because it's the right thing to do to ensure that the field moves forward and that the country has appropriate guidance in these matters. So, when people recognize you for the work that you've done, it really just makes you feel as though you're doing the right thing," Malin said.
His doctorate in computer science is from Carnegie Mellon University. He holds a bachelor's in biological sciences and two master's degrees, one in machine learning and the other in public policy and management, all from Carnegie Mellon.
Drawing on methodologies from computer science, biomedical science and public policy, Malin's research is focused on building technologies to enable data analytics and patient data privacy. He has played a significant role in the development of BioVU, the nation's largest single-site DNA bank linked to de-identified health records.
He is vice chair for research in the Department of Biomedical Informatics; director of BIDS, the Vanderbilt Big Biomedical Data Science Program; co-director of HEADS, the HEAlth Data Science Center; co-director of GetPreCise, the Center for Genetic Privacy and Identity in Community Settings; and director of the Health Information Privacy Laboratory (HIPLab). He serves on the executive committee of the Vanderbilt Data Science Institute.
Since 2007, Malin has led a data privacy consultation service for the Electronic Medical Records and Genomics Network, a National Institutes of Health consortium. He is also the co-chair of the Data Privacy and Security Working Group of the All of Us research program of the U.S. Precision Medicine Initiative.
Malin is a recipient of the Presidential Early Career Award for Scientists and Engineers, and an elected fellow of the American College of Medical Informatics.
Posted on Tuesday, October 16, 2018 in biomedical informatics, Bradley Malin, computer science, Health Data Science Center, Health Information Privacy Laboratory, National Academy of Medicine, Vanderbilt Big Biomedical Data Science Program, Vanderbilt Data Science Institute,Electrical Engineering and Computer Science, Home Features, News, News Sidebar