McCabe receives a 2018 Chancellor's Award for Research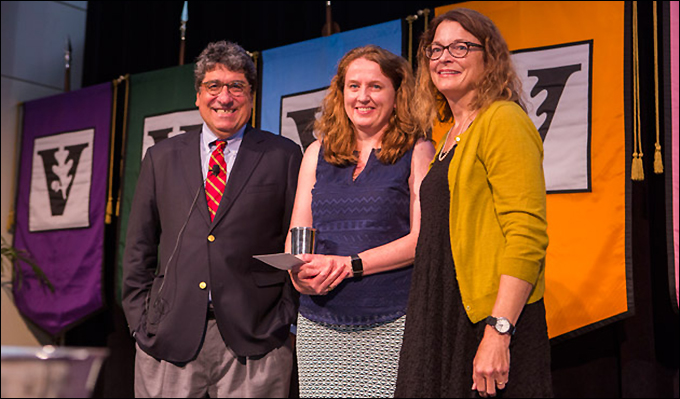 Clare McCabe, Cornelius Vanderbilt Professor of Engineering, is one of six Vanderbilt professors who won a Chancellor's Award for Research. She received the award from Chancellor Nicholas S. Zeppos at the Fall Faculty Assembly Aug. 23.
The award recognizes excellence on the part of faculty for published research, scholarship or creative expression presented or published in the preceding three calendar years. Winners receive a $2,000 prize and an engraved pewter julep cup.
McCabe, a professor of chemical and biomolecular engineering, was recognized for her paper on simulating skin assembly – A Coarse-Grained Model of Stratum Corneum Lipids: Free Fatty Acids and Ceramide NS – that appeared in the Journal of Physical Chemistry B.
"Clare's pioneering research helps us understand how skin can acquire its barrier function, which is essential to human life," Zeppos said. "The honored paper brings together techniques and models that she has developed over years of painstaking work."
McCabe's research represents an important step in using molecular modeling to study the human skin barrier. She has developed molecular-based models for key skin lipids and water to enable the simulation of these complex lipid systems and the study of their self-assembly.
The computational modeling provides molecular level insights into the lipids' organization and structure, which could help clarify the role of abnormal lipids in diseased skin, enable the development of treatments to restore barrier function in diseased skin, and improve the design of transdermal drug delivery systems.
McCabe also serves as associate dean of Graduate School and director of Office of Postdoctoral Affairs. She joined the School of Engineering in 2004.
McCabe has published more than 130 papers in archival journals and presented numerous invited and contributed talks at national and international conferences. She is a fellow of the Royal Society of Chemistry.
Among her awards and honors are the 2014 American Institute of Chemical Engineers Computational Molecular Science and Engineering Forum Impact Award, 2014 Vanderbilt Institute for Nanoscience and Engineering Distinguished Service Award, the Madison Sarratt Prize for Excellence in Undergraduate Teaching in 2011, and a Jacob Wallenberg Foundation Fellowship from the Royal Swedish Academy of Engineering Sciences.
Contact: Brenda Ellis, (615) 343-6314
brenda.ellis@vanderbilt.edu
Posted on Friday, August 24, 2018 in Chancellor's Award for Research, chemical and biomolecular engineering, Clare McCabe, molecular modeling, molecular-level simulation,Alumni, Chemical and Biomolecular Engineering, Home Features, Media, News, News Sidebar, Research