Mechanical engineering student dives into conservation with Seychelles internship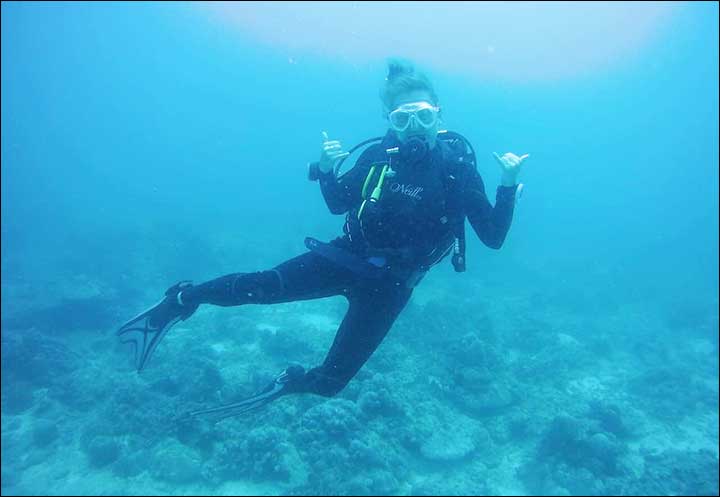 Jillian Bremner is steering beyond her academic focus this summer to explore her passions for scuba diving and ocean conservation, with the aim of eventually combining engineering with a marine career.
A rising junior mechanical engineering major from Colorado, Bremner is spending eight weeks volunteering for Global Vision International (GVI) on the island of Mahe in the Seychelles, the Indian Ocean archipelago nation located off the coast of East Africa.
"The internship in Seychelles perfectly blends the combination of my passions and making a positive difference," Bremner said. "I have always cherished the ocean and marine life, and am deeply saddened by the declining health of marine ecosystems worldwide.
"The opportunity to learn more about marine conservation while also affecting positive change excites me." Bremner's internship is based in Baie Ternay Marine National Park, where she will use her diving skills in coral reef monitoring and recovery. The GVI program on Mahe supports various conservation-related surveys by providing data to protect the reefs.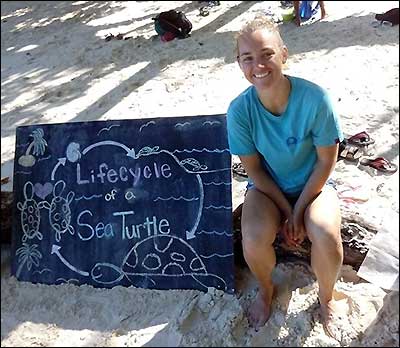 Haoxiang Luo, associate professor of mechanical engineering and Jillian's academic advisor, supported her pursuing the GVI internship. "Jillian took a mechanical engineering course, Fluid Mechanics, with me last year, in which we discussed the physics of diving and basic safety related to diving.
"I learned that Jillian was professionally trained for deep water diving, and I asked her to share with the class a little bit of her experience. I am very happy for her because this internship provides her a great opportunity for applying what she learned to do and what she loves, and to do something that is meaningful."
Luo believes internships such as Bremner's cultivate students investigating a wide range of career opportunities – "where they can apply their knowledge, where their passion lies, and where they can work to improve our society in some way."
Bremner has never traveled to Africa before. The remote Seychelles location takes her outside her comfort zone, she said, but diving is a familiar pursuit.
"My first time scuba diving was in Belize when I was 12, and I fell in love with it instantly. Since then, I have gone scuba diving every chance that I have gotten. I will be getting my PADI Advanced and PADI Coral Reef Research Diver certifications during the internship, and I will be improving my skills by diving every day."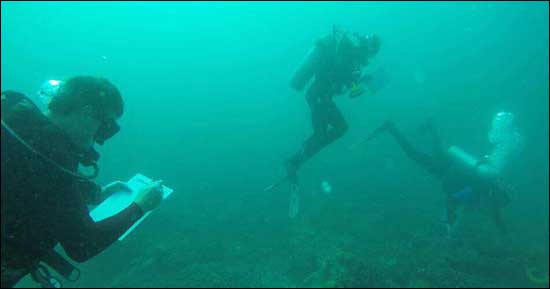 The GVI program also includes environmental education classes and community outreach activities, with an emphasis on developing leadership skills. Bremner will train with a mentor, complete weekly written assignments and field discussions.
"The environmental education program ensures that the public can access the work done, and that the efforts to conserve marine life are practiced by as many people as possible," she said. "The leadership and teamwork skills that I will learn in this program will be valuable for my personal development and future career.
"I am looking forward to growing through this internship," Bremner added. "I expect to learn a lot about another way of life, the things I take for granted living in the U.S., and how I might incorporate my engineering knowledge into marine careers."
Submitted/Rebecca Newton
Contact: Brenda Ellis, (615) 343-6314
Brenda.Ellis@Vanderbilt.edu
Posted on Monday, July 9, 2018 in Haoxiang Luo, internship, Jillian Bremner, marine conservation, mechanical engineering, Seychelles,Alumni, Home Features, Mechanical Engineering, Media, News, News Sidebar, Research