Radiation experiment flies on record-setting SpaceX launch dedicated entirely to small satellites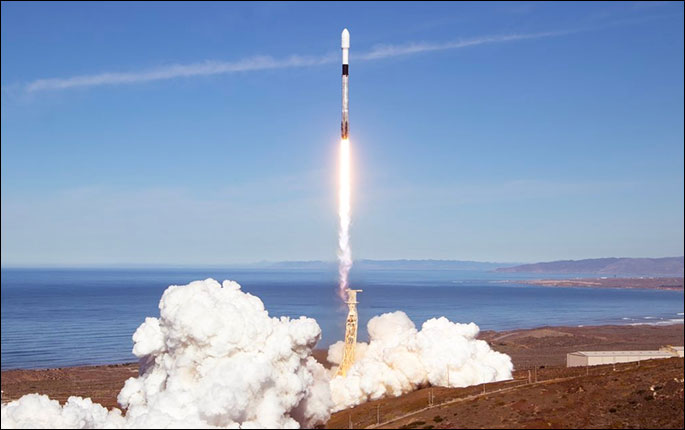 The record-setting SpaceX rocket launch yesterday carried a Vanderbilt space radiation experiment aboard CubeSat Fox-1Cliff.
Actually, it's a spare.
The original payload is aboard CubeSat AO-85 , launched in 2015 and still in low-Earth orbit. After deployment, Fox1-Cliff received its official designation, AO-95. A third Vanderbilt payload has been up one year this month on AO-91, and there are currently two more missions in the works.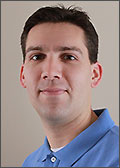 "Building a spare system is a risk-reduction technique. Practically, launching the spare means we can collect a larger data set and continue our presence in space," said Brian Sierawski, research assistant professor of electrical engineering. "Each has a limited lifetime before functional failures or de-orbit."
SpaceX's Falcon 9 rocket launched Monday, Dec. 3, from Vandenberg Air Force Base in California and delivered 64 small satellites into sun-synchronous low-Earth orbit – setting a U.S. record for the largest single rideshare mission.
The smallsats rode to space inside a 20-foot-tall structure called a payload stack and shielded by Falcon 9's fairing during launch. In orbit, the fairing fell away and the satellites popped off the payload stack in a carefully orchestrated sequence. About seven hours after launch, all 64 satellites had deployed successfully.
Spaceflight, a Seattle-based company that specializes in space rideshares – putting multiple satellites on the same rocket – chartered the launch. The mission was designated SSO-A, or the SmallSat Express. SSO-A was the first Spaceflight mission where a rocket was filled entirely with small satellites. They came from 34 clients and organizations across 17 countries.
The rocket carried 15 MicroSats and 49 CubeSats from government and commercial entities including universities, startups, and even a middle school. The payloads vary from technology demonstrations and imaging satellites to educational research endeavors. Microsatellites weigh a few dozen pounds and CubeSats are even smaller. Fox-1Cliff is a 4-inch by 4-inch, 2.2 pound CubeSat.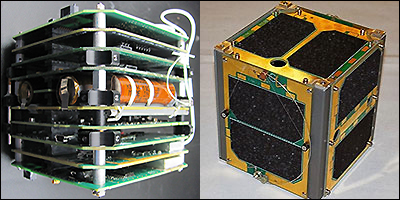 The Vanderbilt data are being received by thousands of ham radio operators worldwide, made possible by a partnership with the Radio Amateur Satellite Corporation, a volunteer organization of ham radio operators that has been building and launching satellites since the 1960s. AMSAT provided Vanderbilt with a slot on Fox-1Cliff and is collecting and feeding the telemetry to the university via the Internet.
"Like the previous two missions, AMSAT plays an important role providing the satellite and ground operations," Sierawski said. Unlike AO-85 and AO-91, AMSAT purchased a commercial launch for Fox-1Cliff.
Fox-1Cliff carried Vanderbilt's "flight spare," a radiation effects experiment developed by the university's Institute for Space and Defense Electronics, a Virginia Tech camera experiment, and a Pennsylvania State-Erie MEMS gyroscope experiment.  The camera is triggered by one of three licensed ground stations in Florida, Texas and North Carolina. Fox-1C also serves as a communications relay for amateurs worldwide via the onboard FM repeater system.
The Low Energy Proton (LEP) radiation experiment payload was designed and built by Sierawski, also a staff engineer for the Vanderbilt's Institute for Space and Defense Electronics, staff engineer Andrew Sternberg and senior electrical engineer Kevin Warren. Electrical engineering professor Robert Reed and Robert Weller, professor of electrical engineering, emeritus, have been involved in the CubeSat projects. Electrical engineering graduate students Rebekah Austin and James Trippe, now at Sandia National Laboratories, also have been involved with all the missions.
The ISDE team fabricated a single test bed (SRAM cards) using commercially available components worth about $200. They are modeling the radiation exposure and testing key components for radiation sensitivity, which will help them design electronics systems for greater fault tolerance.
Specifically, they are making real time measurements of radiation-induced failures called single-event upsets (SEUs) and conducting extensive computer simulations of the performance of the electronics using unique software developed at Vanderbilt over the last decade.
AMSAT calls Fox-1Cliff unique because of the university experiments aboard. AMSAT plans to conduct programs in schools to show students how to download images from Fox-1Cliff. "In addition, by supporting the Vanderbilt University experiment, Fox-1Cliff furthers our educational goals in multiple ways," the organization reported.
When the rocket launched at 12:34 a.m. CST, it was just in time for viewing in one of the School of Engineering's modules that give first-year students a closer look at engineering majors.
"The electrical engineering module was designed with a CubeSat theme so watching the launch was an exciting way to end the semester for the freshmen in ES1403," Sierawski said.
Contact: Brenda Ellis, (615) 343-6314
brenda.ellis@vanderbilt.edu
Posted on Tuesday, December 4, 2018 in AMSAT, AO-96, Brian Sierawski, CubeSat, Fox-1Cliff, ISDE, rideshare mission, SpaceX,Alumni, Electrical Engineering and Computer Science, Home Features, Media, News, News Sidebar, Research