Rehab engineering team takes second place and $20,000 at pitch competition
A team of Vanderbilt School of Engineering entrepreneurs took home second place and $20,000 in startup funds at the recent 36|86: Student Edition pitch competition, part of an annual high profile entrepreneurship conference that draws from across the southeast.
Synchro Motion LLC is developing a smart prosthetic ankle that anticipates users' movements and adjusts to stairs, steep grades and uneven terrain. Team members are mechanical engineering graduate student Harrison Bartlett, mechanical engineering postdoctoral scholar Brian Lawson, and Michael Goldfarb, H. Fort Flowers Professor of Mechanical Engineering.
Bartlett made the team's pitch and had four minutes to make his case. The biggest advantages, he said, include a large and rapidly growing target market for such a device and technology with great potential to improve the safety, comfort, and mobility of patients with lower limb amputations.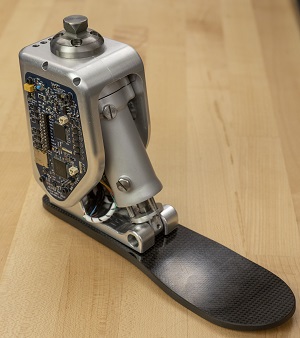 "We have developed a proof-of-concept device that works well, and we have received positive feedback from both clinicians and patients, Bartlett said, adding the team has begun designing a more commercially viable prototype.
The technology was developed in Goldfarb's lab.
"Our prosthetic ankle is intelligent, so you can wear a dress shoe, a running shoe, a flat – whatever you'd like – and the ankle adapts," said Goldfarb, co-director of the Center for Rehabilitation Engineering and Assistive Technology. "You can walk up slopes, down slopes, up stairs, and down stairs, and the device figures out what you're doing and functions the way it should."
He also developed the world's first easily portable, wearable robot – the Indego exoskeleton – which recently was nominated for a 2018 R&D 100 Award.
At the pitch competition, the judges asked about regulatory hurdles. The FDA considers the prosthetic ankle a Class 1 medical device, which is the lowest classification and defined as one of "a low to moderate risk to the patient and/or user." The higher the class, the greater the risk and the greater the regulatory approval before going to market.
Synchro Motion was the first team to complete National Science Foundation's Innovation Corps training program after Vanderbilt became an official site. I-Corps teams receive grants to help them explore the commercial potential of devices they've designed. Through the seven-week program, participants determine if their invention is truly different from existing technology, and, once validated, develop a go-to-market commercialization strategy.
The team is seeking additional funding and starting the "commercial hardening" design phase, Bartlett said.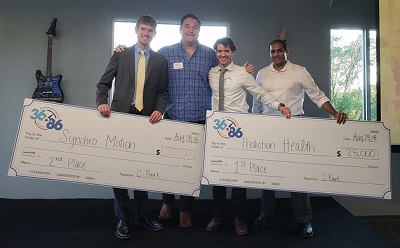 Vanderbilt was well represented at the pitch competition, with four of 13 teams selected out of 100s of applicants to make fast pitches before a panel of judges.
First place and $25,000 in startup funds went to PredictionHealth, a service for doctors that automatically documents patient encounters at the tap of a button. PredictionHealth's app listens to patient-doctor conversations and uses machine learning, natural language processing and human scribes to turn the audio into medical documentation.
Team members are Pedro Teixeira and Ravi Atreya, who are students in Vanderbilt's dual M.D. and Ph.D. program, and Michael Poku, who earned both his Vanderbilt M.D. and a Harvard University MBA.
They will start the I-Corps program in the coming weeks.
Vanderbilt began offering the I-Corps program last year through the Wond'ry, its center for entrepreneurship, innovation and making.
Posted on Wednesday, September 5, 2018 in entrepreneurship, I-Corps, Michael Goldfarb, NSF, PredictionHealth, Robert Grajewski, startups, synchro motion, Wond'ry,Home Features, Mechanical Engineering, News, News Sidebar, Research