SPIE Medical Imaging conference gives students new perspective – as presenters
Engineering graduate students who made presentations at SPIE Medical Imaging 2018 expected some performance jitters and anxiety about what their peers at this premier academic gathering thought of their work.
What they may not have expected is the collegial give-and-take following their talks that sowed the seeds for new research avenues. Participating at such a high-level conference enriched their graduate student experience in ways that will impact their careers for years to come, they said.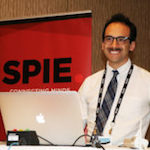 Cam Bermudez, an MD/PhD student in the Medical-image Analysis and Statistical Interpretation (MASI) Lab, attended the conference once before but 2018 was a different experience entirely because he was a presenter.
The feedback and conversations with other scholars after his session will shape how he moves forward with the project, Bermudez said.
"Any chance to present in front of my colleagues is an opportunity for growth," he said. "Not only do I get to improve on my ability to communicate science with each iteration, but I am exposed to new concepts and ideas."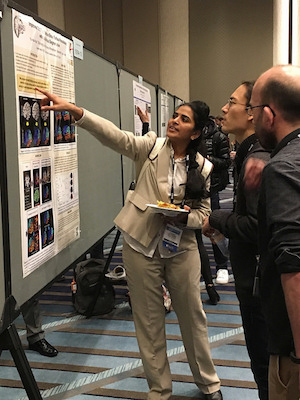 The MASI Lab was one of six labs affiliated with the Vanderbilt Institute for Surgery and Engineering (VISE) that sent representatives to SPIE Medical Imaging 2018, which was held in Houston this year. The VISE contingent had more than 20 students, including several presenters and several who won paper awards.
For many graduate students, preparation begins the summer before the conference, with a decision on a novel project that will ultimately become their SPIE paper. When the lengthy submittal process ends with an accepted paper, many students practice in front of their colleagues to receive feedback leading up to the meeting.
The experience requires them to translate complex research efforts quickly and clearly both in their thinking and in presentation.
"In preparing for my talk, I was able to improve my ability to articulate my research, and think more about the big picture," said Winona Richey, a first-year biomedical engineering graduate student "Hearing other perspectives and suggestions got me excited about all the new ways I can go about tackling my research problem."
Richey, who is is in the Biomedical Modeling Lab, specializes in advanced image guidance for breast cancer surgery.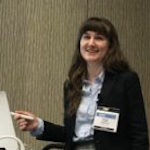 Srijata Chakravorti, a graduate student in electrical engineering, said attending professional conferences is a great way to learn about work beyond the "bubbles" of their own labs and get new perspectives on their own work. Such events also indicate where the fields of medical imaging and image-guided patient care are headed.
"I feel that having that kind of awareness of the broader field is essential to have an impactful research career," said Chakravorti, who is a member of the Medical Imaging Processing Lab. "There is so much rapid development ongoing in both imaging technologies and their applications to clinical problems that I wouldn't have fully appreciated if I hadn't attended this conference."
As a mechanical engineering graduate student, James Ferguson works on image guidance for the da Vinci robotic surgery system in the Medical Engineering and Discovery Lab.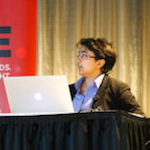 Ferguson had the opportunity to speak with other researchers about potential uses for the research project his team had not yet considered, which he said was immensely valuable.
"The overall atmosphere at SPIE is incredibly welcoming," said Ferguson, a first-time presenter. "It a fantastic experience for me from a professional development standpoint."
Among the other Vanderbilt students presenting was Mark George, a biomedical engineering senior and member of the Biomedical Elasticity and Acoustical Measurement (BEAM) Lab. As lead author, he presented the paper titled, "Perfusion flow phantoms with randomly oriented microchannels."
In addition, four student VISE affiliates were recognized for their outstanding work at the annual event.
Meg Bobo, a sophomore in electrical engineering, won the Cum Laude Poster Award in the Image Processing conference for her poster, "Fully convolutational neural networks improve abdominal organ segmentation."
Yiyuan Zhao, a graduate student in electrical engineering, was one of two runners up for the Seimens Young Scientist Award with his paper, "Validation of cochlear implant electrode localization techniques."
Additionally, VISE had two finalists for The Robert F. Wagner All-Conference Best Student Paper Award. The chairs of each sub-conference submit a single paper with a student as first author.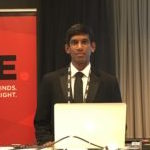 Prasanna Parvathaneni, a graduate student in electrical engineering, was the finalist from the Imaging Processing sub-conference, and Jaime Tierney, graduate student in biomedical engineering, was the pick from the Ultrasound Imaging and Tomography sub-conference.
Parvathaneni works in the MASI lab and Tierney works in the BEAM Lab.
Posted on Thursday, March 8, 2018 in graduate students, SPIE,Biomedical Engineering, Electrical Engineering and Computer Science, Home Features, Mechanical Engineering, News, News Sidebar, Research