Two engineering faculty members named as 2018 Chancellor Faculty Fellows
Engineering professors Craig Duvall and Jason Valentine join 10 outstanding faculty members from across the university as the 2018 class of Chancellor Faculty Fellows. The class comprises highly accomplished, recently tenured faculty.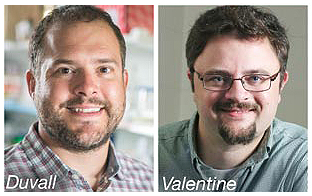 "Our world-class faculty are the heart of Vanderbilt, and investing in our faculty is also an investment in the university community, today and for years to come," Chancellor Nicholas S. Zeppos said. "The Chancellor Faculty Fellows program recognizes these academic leaders early in their careers and provides a lasting foundation for their scholarly research. We are committed to our faculty and their discovery of new knowledge that keeps Vanderbilt moving forward."
The faculty members will hold the title of Chancellor Faculty Fellow and will be supported by an unrestricted allocation of $40,000 a year for two fiscal years beginning July 1. The funds can be used to support innovative research, scholarship and creative expression that will further propel their careers. The Chancellor Faculty Fellows meet as a group during the course of their awards to exchange ideas on teaching and research, building a broader intellectual community that advances trans-institutional scholarship.
Associate Professor of Biomedical Engineering Craig L. Duvall conducts research on advanced drug delivery systems designed for regenerative medicine applications including enhancing the performance of stem cell therapies for use in tissue engineering, stimulating healing of non-healing skin wounds, improving long-term performance of vascular bypass grafts, and reducing tissue destruction in degenerative diseases such as osteoarthritis.
Duvall's lab conducts research on projects in these areas sponsored by the American Heart Association, the National Institutes of Health, the Department of Defense, and the National Science Foundation.
His achievements include a Presidential Early Career Award for Scientists and Engineers, the highest honor bestowed by the U.S. government on outstanding scientists and engineers early in their research careers, a National Science Foundation Faculty Early Career Development grant, and a Society for Biomaterials 2015 Young Investigator Award.
Duvall joined the School of Engineering in January 2010. He earned a Ph.D. in biomedical engineering in 2007 at the Georgia Institute of Technology.
Associate Professor of Mechanical Engineering Jason Valentine conducts research on optical metamaterials, active photonics, solar energy conversion, and scalable 3D nanomanufacturing.
Specifically, he and a team of researchers in the Valentine Lab are interested in understanding how nanoscale structuring can engineer a material's optical properties, and use this understanding to develop novel materials for applications such as communications, imaging, optoelectronic devices, photonic circuitry, and solar energy conversion.
His achievements include a National Science Foundation Faculty Early Career Development grant, an Office of Naval Research Young Investigator Award, and he received in fall 2017 a Chancellor's Award for Research.
Valentine joined the School of engineering in 2010 from the University of California-Berkeley where he had completed a Ph.D. in mechanical engineering.
"We are now entering the fourth year of the Chancellor Faculty Fellow program, and the entire university community continues to reap rich dividends from these faculty members' collaborations, trans-institutional research and teaching, fulfilling the vision we set in the Academic Strategic Plan," Provost and Vice Chancellor for Academic Affairs Susan R. Wente said. "I know they will play a large role in contributing to the academic body of knowledge and furthering our One Vanderbilt mission."
The Chancellor Faculty Fellows program was launched in September 2014 under the Trans-Institutional Programs, or TIPs, initiative to support outstanding faculty who have recently received tenure.
Contact: Brenda Ellis, (615) 343-6314
Brenda.Ellis@Vanderbilt.edu
Posted on Thursday, January 18, 2018 in Chancellor's Faculty Fellows, Craig Duvall, Jason Valentine,Alumni, Biomedical Engineering, Mechanical Engineering, News, News Sidebar, Research