Vanderbilt engineer to participate in NAE's Frontiers of Engineering symposium
A Vanderbilt University engineering professor has been selected to take part in the National Academy of Engineering's 24th annual U.S. Frontiers of Engineering symposium Sept. 5-7 in Lexington, Mass.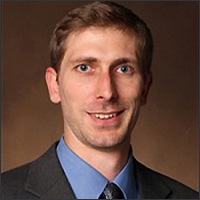 Brett Byram, assistant professor of biomedical engineering, is one of 84 engineering researchers chosen from a highly competitive pool of applicants – ages 35 to 45 – who perform exceptional engineering research and technical work in a variety of disciplines.
The participants, from industry, academia and government, were nominated by fellow engineers or organizations.
The symposium will cover cutting-edge developments in four areas: quantum computing, technology for humanitarian assistance and disaster relief, resilient and reliable infrastructure, and theranostics. The MIT Lincoln Laboratory is host of the 2018 USFOE.
"It is critically important to bring young engineers from different technical areas together to spark innovation," said NAE President C. D. Mote, Jr. "The Frontiers of Engineering program does this by creating a space for talented engineers to learn from each other and expand their technical perspectives early in their careers."
Byram works in the area of ultrasound, specifically beamforming, motion estimation and other related signal processing tasks. His lab at Vanderbilt – Biomedical Elasticity and Acoustic Measurement Laboratory (BEAM) – pursues ultrasonic beamforming and elasticity solutions to clinical problems.
His research is a transformational integration of acoustics, machine learning, signal processing and neuroscience to better understand and access functional and anatomical information.
Byram received a National Science Foundation Faculty Early Career Development grant in April 2018. The award funds the development of a next-generation ultrasound device to enable real-time ultrasonic visualization, without the use of contrast agents, of brain perfusion – cerebral blood flow and pressure – and translate these signatures into action.
Byram joined the biomedical engineering faculty in 2013. Previously, he was he was an assistant research professor in biomedical engineering at Duke University. He earned a B.S.in biomedical engineering and math from Vanderbilt in 2004. He received the Ph.D. degree in biomedical engineering in 2011 from Duke.
Sponsors for the 2018 U.S. Frontiers of Engineering are The Grainger Foundation, National Science Foundation, Defense Advanced Research Projects Agency, Air Force Office of Scientific Research, DOD ASDR&E Laboratories Office, Microsoft Research, and Cummins.
Contact: Brenda Ellis, (615) 343-6314
brenda.ellis@vanderbilt.edu
Posted on Wednesday, July 11, 2018 in biomedical engineering, Brett Byram, NAE, U.S. Frontiers of Engineering,Alumni, Biomedical Engineering, Home Features, Media, News, News Sidebar, Research