Vanderbilt engineering professor wins inaugural $2.5M Chan Zuckerberg Initiative grant for neurodegenerative disorders research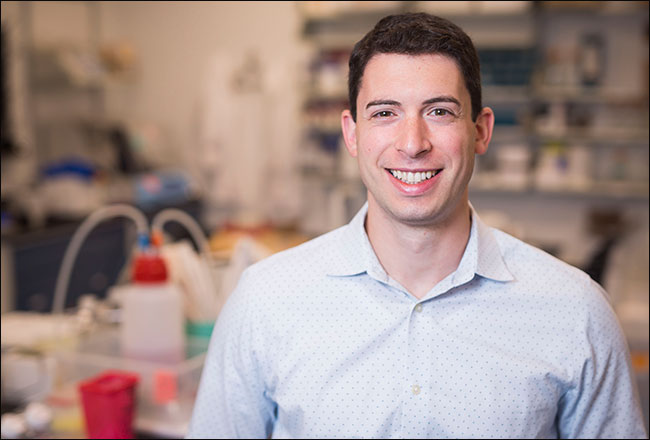 CZI awards over $51 million to fight a class of diseases that include Alzheimer's and Parkinson's
Ethan Lippmann, assistant professor of chemical and biomolecular engineering at Vanderbilt University, has won an inaugural Chan Zuckerberg Initiative grant for neurodegenerative disorders research. The five-year, $2.5 million award supports his goal of better understanding how blood-brain barrier dysfunction impacts neurodegenerative diseases such as Alzheimer's and Parkinson's.
Today, the Chan Zuckerberg Initiative announced a total of $51.95 million in awards and its selection of 17 early career investigators and nine collaborative science teams to launch the CZI Neurodegeneration Challenge Network. Facebook CEO Mark Zuckerberg and pediatrician Priscilla Chan launched the Chan Zuckerberg Initiative in December 2015.
The new network will bring together scientists, physicians and engineers to focus on neurodegenerative diseases as a broad class of disorders with shared features and potentially shared solutions. Network researchers will focus on understanding the fundamental biology of what causes these diseases and how they progress, with an aim toward future development of new strategies for treatment and prevention.
"To fill gaps in our understanding of neurodegenerative diseases, we need to support new approaches, explore new ideas and help experts connect across disciplines," said Cori Bargmann, CZI Head of Science. "We're excited to welcome the first group of CZI Neurodegeneration Challenge Network grantees. Together, their work will increase our knowledge of the basic biology of these diseases – and we need that knowledge to develop better treatments."
Neurodegenerative disorders, including Alzheimer's, Parkinson's, Huntington's disease and ALS are a class of diseases that affect millions of people worldwide. Meanwhile, the causes of most neurodegenerative diseases are only partly understood, and there are still no effective therapies to cure, prevent or even treat most of these disorders.
"This award will help support our ongoing efforts to understand the function of the blood-brain barrier in both healthy brains and those suffering disease," said Lippmann, also an assistant professor of biomedical engineering. "My lab has spent several years developing model systems and engineering platforms to pursue these research questions, and I'm excited for both the opportunity and challenge to carry out this work."
The title of Lippmann's project is Mechanisms of Blood-Brain Barrier Transporter Regulation:  New Avenues for Understanding and Treating Neurodegenerative Disorders.
The blood-brain barrier is a dynamic endothelial interface that separates the bloodstream from the brain. It contains transporter proteins that maintain homeostasis by shuttling biomolecules between each compartment. Deregulation of the barrier's transporter expression is observed in many neurodegenerative diseases, and those transporters can either enhance or hinder drug permeation into the brain depending on their relative expression and activity.
"However, the molecular cues and signaling networks that influence these transporters are poorly understood, which makes it difficult to determine how transporters are naturally regulated and subsequently altered by disease," said Lippmann, who will use cell engineering strategies to systematically deconstruct mechanisms that govern blood-brain barrier transporter expression and regulation.
"These days, it feels like everyone knows someone suffering from neurodegenerative disease. Several members of my lab have loved ones afflicted by these diseases, and my own family has a history of Parkinson's disease," Lippmann said. "We all hope that participation in this challenge network will help transition our basic science investigations towards meaningful clinical interventions in the future."
Today's recipients were awarded through two funding mechanisms: the CZI Ben Barres Early Career Acceleration Awards and the CZI Collaborative Science Awards.
Lippmann's project is supported by a Ben Barres Early Career Award Acceleration Award, named for the late Ben Barres, an American neurobiologist and fierce advocate for young scientists, women, mentorship and diversity in science. CZI is awarding a total of $42.5 million for these awards. In addition to funding, each of the 17 selected investigators will benefit from the scientific and professional mentorship and collaborative support of the Challenge Network.
"I am truly grateful for this support from CZI. Vanderbilt University has provided an incredibly stimulating and collaborative environment for my lab's initial work, and this generous award will help us expand our research footprint even further to tackle important problems in neurodegeneration. It's also an incredible honor to receive an award named after the late Dr. Ben Barres, who was a pioneer in neurobiology," Lippmann said.
READ MORE >>
A New Approach to Solving Neurodegeneration
Katja Brose, Science Program Officer, Chan Zuckerberg Science Initiative
Contact: Brenda Ellis, (615) 343-6314
brenda.ellis@vanderbilt.edu
Posted on Wednesday, December 5, 2018 in Alzheimers, Ben Barres Early Career Award Acceleration Award, Chan Zuckerberg Initiative, chemical and biomolecular engineering, CZI Neurodegeneration Challenge Network, Ethan Lippmann, neurodegenerative disorders, Parkinson's,Biomedical Engineering, Chemical and Biomolecular Engineering, Home Features, Media, News, News Sidebar, Research