Vanderbilt engineer's novel research explores way to restore silenced voices

A swarm of cicadas that left thousands of insect carcasses across the Vanderbilt University campus in 2011 is leading to transinstitutional research at the Vanderbilt Institute for Surgery and Engineering and Vanderbilt University Medical Center to develop a surgical planning tool to help restore speech for people with vocal fold paralysis.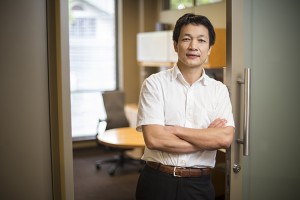 Haoxiang Luo, Ph.D., who specializes in computational modeling of fluid-structure interaction (FSI) for biological systems, brought some of those cicadas back to his Computational Flow Physics and Engineering Laboratory and created a model of their wing movements.
Luo, an associate professor of mechanical engineering and otolaryngology, has made similar models of the aerodynamics of a hummingbird's wing and the hemodynamics of blood as it interacts with heart valves, among other fluid flow systems.
His VUMC collaborator, Bernard Rousseau, Ph.D., MMHC, associate vice chair for research in otolaryngology and associate professor of Otolaryngology, Hearing and Speech Sciences and mechanical engineering, found similarities in the way the cicada wings moved and the movement of human vocal folds, leading them to wonder how the model might be used to improve surgical techniques for paralyzed vocal folds.
Rousseau is the principal investigator of the multidisciplinary team, which includes Luo and Gaelyn Garrett, MD, professor and vice chair of otolaryngology.
This has culminated in the National Institutes of Health awarding a five-year, $2.4 million research grant to a multidisciplinary Vanderbilt team to design a software tool to help surgeons develop more precise surgery plans for the most common surgical intervention for unilateral vocal fold paralysis, type 1 laryngoplasty.
Vocal folds are located on both sides of the larynx and must come together and vibrate to produce sound. The study is focusing on unilateral vocal fold paralysis, which is when one of the vocal folds fails to close completely against the other.
People with the condition have a hoarse voice, and require more effort to produce sound. They often experience vocal fatigue and become winded during everyday activities. Such issues can seriously impact quality of life, leading to loss of productivity at work and long-term disability.
Type 1 laryngoplasty involves stabilizing the paralyzed vocal fold with a small implant that helps a person produce voice and also breathe more easily. Patients, who are alert and under local anesthesia during surgery, may be asked to sing "Happy Birthday" during the procedure to determine whether the implant was placed correctly.
Posted on Tuesday, March 27, 2018 in aerodynamics models, Haoxiang Luo, mechanical engineering, NIH grant, otolaryngology, vocal fold paralysis,Alumni, Home Features, Mechanical Engineering, Media, News, News Sidebar, Research