Vanderbilt University launches the Frist Center for Autism and Innovation
A $10 million gift from alumna Jennifer R. Frist, BS'93, and husband William R. "Billy" Frist will endow a new center focused on supporting and developing the neurodiverse talents of individuals with autism at Vanderbilt University's School of Engineering.
The contribution continues the work of a Trans-Institutional Programs (TIPs) initiative launched last October with seed funding from the university and led by Keivan G. Stassun, Stevenson Professor of Physics & Astronomy and Professor of Computer Science.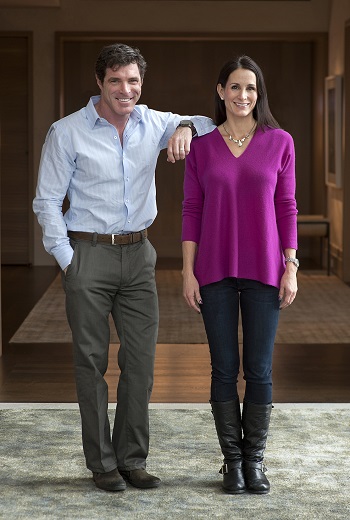 "The pilot program connecting autism, innovation, employment and technology is a perfect example of how the Vanderbilt community can come together to create positive change in the world," Vanderbilt Chancellor Nicholas S. Zeppos said. "The deep generosity of the Frists will play a vital role in powering new discoveries around this important topic, while improving the quality of life for individuals on the autism spectrum and creating new opportunities for a host of industries and businesses who will benefit from these individuals' unique talents and skills."
The Frist Center for Autism and Innovation will combine academic research, commercial R&D and business innovations to identify and understand the capabilities of individuals with autism, and to enhance the 21st-century workforce through engagement of autistic talent. Vanderbilt engineers, scientists and business scholars, together with autism experts in the clinical and vocational domains, will work with major Nashville employers and national autism organizations to:
Invent and commercialize new technologies
Advance understanding of neuro-diverse capabilities related to employment
Disseminate a community-based approach to enhance the bottom line for business and improve quality of life for individuals with autism
The Frists were drawn to the Vanderbilt project last year as part of a wider effort in the Nashville business community to explore ways to match autistic individuals with employers in search of their unique talents. The couple has a teenage son diagnosed with autism.
"By focusing on people's abilities—not disabilities—this center can empower those on the autism spectrum to reach their full potential," Jennifer Frist said. "Their skills are well-suited for a number of important jobs, especially in a future driven by technology."
Billy Frist said the new center gives hope to families who have children with autism.  "These children have extraordinary abilities, but too often families worry about their future independence and employment. We believe the work of this center can help change that course for the better," he said.
While the Frists are longtime supporters of Vanderbilt Athletics, this is their most significant gift—and the largest gift of its kind at Vanderbilt—to support autism research within the engineering and innovation scope.
"This center epitomizes the opportunities for cross-campus collaboration at Vanderbilt," said Susan R. Wente, provost and vice chancellor for academic affairs. "This visionary gift drives our autism research efforts in a way that combines research and engineering innovation while making positive strides in the domain of inclusion and diversity."
Neurodevelopmental differences such as autism now affect about 1 in 60 people. At the same time, the workforce needs of the information age require an ever more diverse array of human talent. But businesses have not yet learned how to fully tap the abilities of autistic and other neurodiverse people.
"If we can understand and leverage the unique capabilities of autistic individuals to fuel innovation in the 21st century economy, we will have significantly addressed one of the emergent grand challenges of our time," Stassun said. "As a fellow parent of an autistic son who dreams of someday becoming an engineer, I am honored to lead this center and am deeply grateful to the Frists for their support and partnership."
Stassun built his internationally recognized laboratory in astrophysics and data science around a neurodiverse team of students and researchers. He was honored last year with a million-dollar Professor Award from the Howard Hughes Medical Institute to advance the autism and innovation pilot initiative in collaboration with the Vanderbilt Kennedy Center.
Philippe Fauchet, who holds the Bruce and Bridgitt Evans Dean's Chair in Engineering, said this is an opportune time to develop a new paradigm designed to tap into the extraordinary capabilities of individuals with autism. "This center will expand Vanderbilt's work in autism research in a truly novel way, deepening our ability to drive innovation and quality of life through engineering and entrepreneurship."
The new center will be housed at Vanderbilt's Innovation Pavilion, part of the recently opened Engineering and Science Building. The work of the center is underway, and a grand opening is planned for the beginning of the 2019-2020 academic year.
Posted on Thursday, November 8, 2018 in autism, autism spectrum disorder, Frist Center for Autism and Innovation, neurodiversity, Nicholas S. Zeppos, Philippe Fauchet, Susan Wente,Alumni, Home Features, News, News Sidebar, Research