Watson Room opening, Hall Lecture mark two-day celebration of IBM support at Vanderbilt
Vanderbilt will open the Watson Room at the Wond'ry, and IBM Vice President Robert Sutor will give the School of Engineering's John R. and Donna S. Hall Lecture, as part of a two-day celebration of IBM support at Vanderbilt University Sept. 19–20.
Vanderbilt will open the Watson Room beginning at 5 p.m. Wednesday, Sept. 19, on the Wond'ry's second floor, followed by a reception and poster session at 5:30 p.m. featuring the School of Engineering's IBM Graduate Fellows. Joining Sutor at the event will be Naguib Attia, vice president, and Kimberly Greene Starks, executive architect, of Global University Programs at IBM.
Rather than a physical space, the Watson Room is a suite of products and services provided by IBM that will be located at and supported by the Wond'ry. These products and services are open to the entire Vanderbilt campus. Training sessions, workshops and demonstrations will begin Sept. 19 at the Watson Room opening and will continue throughout the academic year.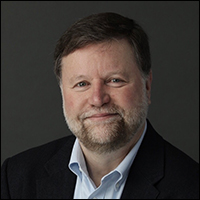 On Thursday, Sept. 20, Sutor, vice president for IBM Q Strategy and Ecosystem at IBM Research, will present "Quantum Computing: Don't Count Your Qubits Before They're Hatched" at 4:10 p.m. in Jacobs Believed in Me Auditorium at Featheringill Hall. A reception will follow the lecture in Adams Atrium. Sutor's talk is part of the John R. and Donna S. Hall Engineering Lecture Series.
Sutor will discuss the basics of the technology, the motivation for quantum computing, and the outlook for the future. "I'll especially emphasize the roles academic institutions will have in research and in driving the next generation of educated potential quantum computer users," Sutor said. IBM Q quantum devices are accessed using Qiskit, a modular, open-source programming framework.
Learn more about the Sept. 20 lecture here. Both events are free and open to the Vanderbilt community.
The IBM Graduate Fellows Program was established in 1981 as an endowed fund to support highly competitive graduate students in all engineering departments. There are 20 student fellows for 2018-19. The fellowship allows these students to pursue research areas of interest and is used as an incentive to attract the best and brightest to attend Vanderbilt's School of Engineering for their doctoral studies.
Fourth-year fellows are Chad Carpenter and Andres Martinez Guerra, mechanical engineering; Paul Johnson, environmental engineering.
Third-year fellows are Haley Alexander Adams, computer science; Ke Ding, environmental engineering; Justin B. Gilmer, interdisciplinary materials science; Charles Hartsell, electrical engineering; Margaret Rox, mechanical engineering.
Second-year fellows are Max Emerson, mechanical engineering; Colin Hansen, computer science; Yingxiao Kong and Daniel Perrucci, civil engineering; Joseph Matson, interdisciplinary materials science.
First-year fellows are Alberto Esteban-Linares, mechanical engineering; Yulin Guo, civil engineering; Megan Harkema, environmental engineering; Elena Kovalik, interdisciplinary materials science; Ali Ozdagli, computer science; Yucheng Tang and Hanyu Zheng, environmental engineering.
Other IBM workshop events planned for 2018-19 include:
TJBot Module/TJBot Series
Aug. 22-Sept. 21
Sept. 24-Oct. 26
Oct. 26-Dec. 5
Mondays-Wednesdays-Fridays, 12:10-1 p.m.
Venue: TBD
Four-week Series
Sept. 4-Sept. 25
Oct. 2-Oct. 23
Tuesdays, 5-6:15 p.m.
The Wond'ry
Workshop
Sept. 13
6-6:40 p.m.
The Wond'ry
Blockchain Seminar
Oct. 11
5-6 p.m.
The Wond'ry
Project Debater Exhibit
January launch
The Wond'ry
TJBot Series
Four-week series
Jan. 15-Feb. 5
Feb. 19-March 12
March 26-April 16
Tuesdays, 5-6:15 p.m.
The Wond'ry
Entrepreneurship Seminar
Feb. 19
5-6 p.m.
The Wond'ry
Quantum Computing Seminar
March 14
5-6 p.m.
The Wond'ry
Design Day Presentation
April 22
The Wond'ry