Weiss, Mahadevan-Jansen honored by OSA; Weiss also named SPIE Fellow
Two engineering professors have been named fellows of The Optical Society (OSA), a leading international association for optics and photonics.
Cornelius Vanderbilt Professor of Engineering Sharon Weiss, a professor of electrical engineering, received the distinction "for contributions expanding the use of silicon in photonics and optoelectronics, and especially for designing and demonstrating highly sensitive porous-silicon guided-wave optical biosensors."
Weiss also has been named a Fellow of SPIE, international society advancing an interdisciplinary approach to the science and application of light, "for achievements in optical properties of nanoscale materials."
Orrin H. Ingram Professor of Biomedical Engineering Anita Mahadevan-Jansen, also a professor of neurological surgery, was honored by OSA "for contributions to the clinical translation of optical diagnostics and therapeutics including the development and application of Raman spectroscopy methods and infrared neural stimulation."
She was named a SPIE Fellow in 2010 and just finished a three-year term on the organization's Board of Directors.
OSA and SPIE are interdisciplinary groups that bring together academics, clinicians, and industry members in optics and photonics, fast-growing fields that leverage advanced materials and different forms of light in clinical and scientific applications.
Mahadevan-Jansen is director of the Vanderbilt Biophotonics Center (VBC) and Weiss is deputy director of the Vanderbilt Institute of Nanoscale Science and Engineering (VINSE). Both VINSE and VBC involve faculty from the School of Medicine and the College of Arts & Science as well as the School of Engineering.
Weiss' research group studies photonics, optoelectronics, nanoscience and technology, plus optical properties of materials, for applications in biosensing, optical communication, drug delivery, nanoscale patterning and pseudocapacitors.
She joined the Vanderbilt engineering faculty as an assistant professor in 2005. She has received school's Award for Excellence in Teaching and a Presidential Early Career Award for Scientists and Engineers (PECASE), the highest honor bestowed by the United States government on young professionals in the early stages of their independent research careers. In 2017, Weiss was named a Cornelius Vanderbilt Professor of Engineering.
Recent publications include 2017 articles in Optics Express and Proceedings of SPIE Nanoscience and Engineering.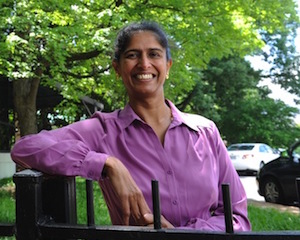 Mahadevan-Jansen, an acknowledged leader in biomedical photonics, joined the School of Engineering in 1997.
VBC focuses on cancer photonics, neuro-photonics and multiscale photonics. She and her team develop technologies that can be used in clinical care for cancer diagnosis and therapy guidance. Surgeons use her laser spectroscopy techniques during delicate brain tumor surgery and her optical techniques are also used in breast cancer surgery.
Mahadevan-Jansen and her team are making at least six presentations at SPIE Photonics West in San Francisco later this month. She also is leading a $3 million interdisciplinary Vanderbilt initiative under the TIPs program to develop next-generation microscopy tools.
The distinction of Fellow is one of the highest honors in SPIE and OSA and requires nomination, review and approval by the respective boards. The new honors for Mahadevan-Jansen and Weiss are for the Fellow cohorts of 2018.
"It's an honor to congratulate the new Fellows, who have contributed to the growth of our industry." OSA CEO Elizabeth Rogan said in a statement. "This impressive group of individuals will continue to add tremendous value to the optical science ecosystem."
Posted on Wednesday, January 17, 2018 in Anita Mahadevan-Jansen, Biophotonics Center at Vanderbilt, nanotechnology, optics, Sharon Weiss, SPIE, VINSE,Biomedical Engineering, Electrical Engineering and Computer Science, News, News Sidebar