With innovation in abundance, Design Day dazzles

Knowing only the project title, they wanted in.
"Mid-flight Drone Refueling" hooked them. Hundreds of hours later, the team of three electrical engineering seniors and four mechanical engineering seniors had a suggestion or two for future capstone design teams.
Be ambitious – but expect to underestimate the project's complexity and the time it requires.
"We didn't even know what we needed to do to accomplish the task," said Andrew Wang, EE. "We took a systems engineering approach that was very open-ended because we had to.
"It is a miracle we got this far," Wang said.
The team settled on a touch-and-go mechanism in which a refueling drone meets an airborne drone and swaps out the old battery for a new, fully charged one. The effort was among more than 60 capstone engineering projects on display at the Student Life Center for the school's annual Design Day on April 23.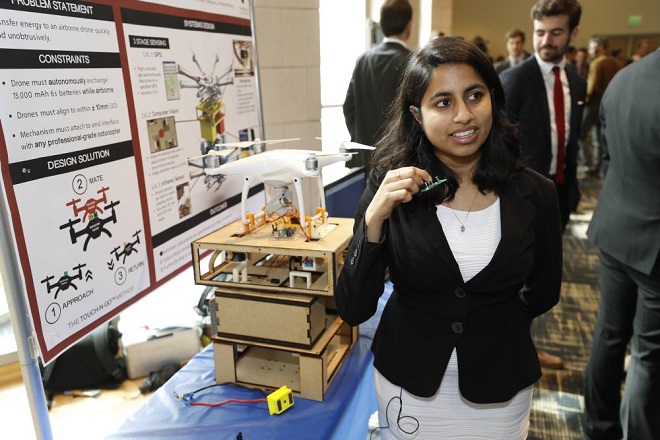 From drones that exchange batteries with other drones mid-air to a solar-powered pump for a Kenyan school, School of Engineering seniors delivered answers to difficult engineering issues this week.
Bruce and Bridgitt Evans Dean Philippe Fauchet opened the event with brief remarks.
"I always leave energized because what you do is so fantastic," he said.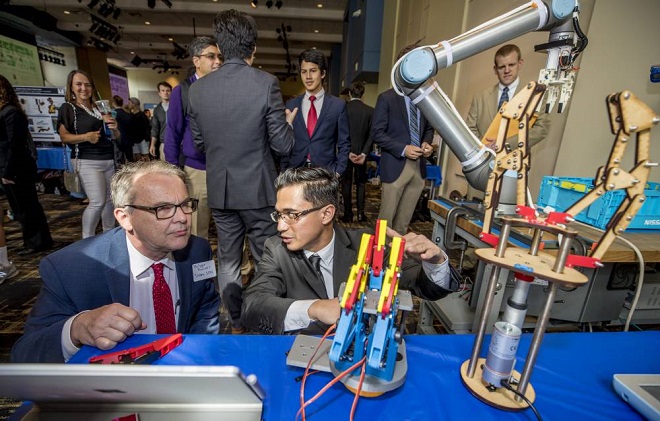 Hundreds of project sponsors, advisers, professors and fellow students packed the three-hour event to see the work and hear students explain in plain language what they'd accomplished with their yearlong projects.
"Basically, the refueling drone has a new battery, and it flies up to the payload drone," said Samvrutha Tumuluru, who double-majors in electrical engineering and biomedical engineering. "They touch, and the drones actuate their motors and switch batteries, and then the refueling drone detaches from the payload drone and returns to the ground."
Accomplishing that, she explained, required not only creating a mechanical system to switch out the batteries, but an electrical one to be sure the power switch was instantaneous. The design also uses infrared, motion and ultrasonic sensors plus GPS capability.
Those sorts of considerations are integral to the event, said Tom Withrow, assistant dean for design and associate professor of the practice of mechanical engineering.
"We always try to get students thinking about real-world projects with real-world constraints, consequences and applications," he said.
Jonathan Tari, ME, said the team realized the challenges not long after it began work.
"I think we thought it was more obvious than it was," he said. "But we built something that didn't exist."
The public, industrial and entertainment sectors have embraced multirotor drones for their ability to record data and film video from the air, but rechargeable batteries in existing commercial options limit flights to about 30 minutes. Tari said the team designed a system that could fit onto any professional grade multirotor drone so it has wide potential application.
The project sponsor, Geeks and Nerds (GaN), was started by Jonn Kim, PhD'99, and is based in Huntsville, Alabama.
GaN, like other corporate sponsors that include Nissan North America, Denso, Metova, Max Mobility, and Natural Computing, owns the intellectual property produced by the projects and teams it supports.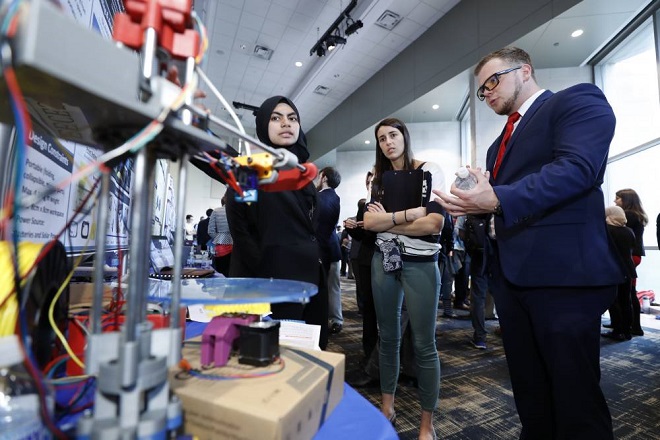 Multiple Vanderbilt and VUMC departments sponsored projects and provided advisers – Vanderbilt Campus Planning, Green Fund and Eye Institute and VUMC anesthesiology, critical care medicine, neurology, orthopedics, pharmacology, radiation oncology, and patient care informatics among them. NASA and NAVSEA were among the sponsors, as were several non-profit organizations.
Among the other projects:
A portable, collapsible, solar-powered 3-D printer;
An in-ear device for ICU clinicians that produces varied sounds for patient alarm severity along with a haptic (vibrating) sensor to minimize alarm fatigue for patients and physicians;
A custom three-fingered hand extension for a robotic arm used in auto manufacturing;
An app for smart outdoor light poles;
A cybersecurity testbed for critical infrastructure;
An algorithm and user interface for insulin infusion;
A mobile system to treat fracking wastewater;
A new lab module for a process control course in chemical engineering;
Site design for affordable housing in Madison, TN, with multifamily units, townhomes and single-family homes.
Teams meet with their clients to define the challenge, create a strategy, build a timeline, assign responsibilities, set deadlines and manage customer relations. Weekly conference calls or in-person meetings with project sponsors keep communication open.
The two-semester senior design project starts over in August, with new students, new sponsors and new projects. For rising engineering seniors, Team Drone has two additional words of advice:
"Prototype often."