Workshop focuses on issue of Nashville's gentrification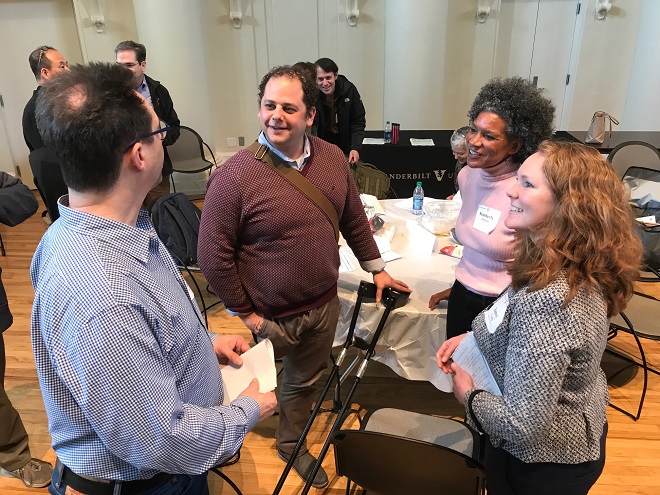 Gentrification researchers from across Vanderbilt University, the city and the nation gathered at the Wyatt Center on April 16 to examine the issue from their various areas of expertise.
The workshop was organized by Vanderbilt Institute for Smart Cities Operation and Research and was titled the VISOR Workshop on Data in Gentrification and Equitable Development: Addressing Gentrification and Equitable Development Challenges Faced by Communities in Nashville.
"We wanted to identify specific challenges and develop innovative solutions to those – actions we could take within the next five years," said Janey Camp, research associate professor of civil and environmental engineering, who helped plan the event. "We also wanted to highlight existing community and university efforts to deal with the issue of gentrification."
Camp and Associate Professor of Earth and Environmental Sciences Jonathan Gilligan are using GIS mapping to track gentrification and related issues in Nashville. The workshop focused on two primary subjects:
The Role of Data Science, Mapping and Machine Learning in Equitable Development
Social Mix and Community Involvement in Equitable Development
The keynote speakers were Ken Steif of the University of Pennsylvania and Erin McElroy of the San Francisco-based Anti-Eviction Mapping Project.
Also speaking was James Fraser, an associate professor in the Department of Human and Organizational Development in Peabody College and faculty in American Studies in the Arts and Sciences. His work focuses on urban restructuring and governance, housing and neighborhood redevelopment, human dimensions of environmental change, and social justice.
Posted on Thursday, April 19, 2018 in civil and environmental engineering, Janey Camp, Nashville, smart cities, VISOR,Civil and Environmental Engineering, Home Features, News, News Sidebar, Research