Anita Mahadevan-Jansen elected National Academy of Inventors Fellow
Anita Mahadevan-Jansen, Orrin H. Ingram Professor of Engineering and director of the Vanderbilt Biophotonics Center, has been elected as a fellow of the National Academy of Inventors, the highest professional distinction accorded solely to academic inventors.
The NAI Fellows Selection Committee chose Mahadevan-Jansen, a professor of biomedical engineering, for demonstrating "a highly prolific spirit of innovation in creating or facilitating outstanding inventions that have made a tangible impact on the quality of life, economic development, and welfare of society."
An acknowledged leader in biomedical photonics, Mahadevan-Jansen and her team develop technologies that can be used in clinical care for cancer diagnosis and therapy guidance.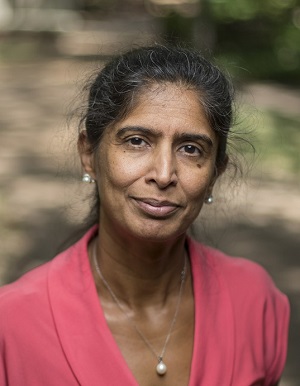 Her FDA-approved technology is changing the way thyroid and parathyroid surgery is performed. An optical imaging technology developed by Mahadevan-Jansen and her group, in partnership with a medical device company, recently won a 2019 R&D 100 Award. The Vanderbilt team, together with Ai Biomed under a commercial license from the Center for Technology Transfer and Commercialization, developed a handheld system that enables safe, rapid localization of parathyroid tissue intraoperatively. The FDA approved the PTeye system for clinical use in 2018.
Current research will help surgeons perform delicate brain tumor surgery and breast cancer surgery. She and her group also are developing next-generation microscopy technology and light-based probes to assess premature birth risks.
Earlier this year Mahadevan-Jansen was elected to the presidential track of SPIE, the international society for optics and photonics. She will serve as vice president in 2020, president-elect in 2021 and president in 2022.
Her technical interests include biophotonics, optical spectroscopy and imaging for disease detection, neurophotonics, cancer diagnosis, optical guidance of surgery and clinical translation of optical technologies. She joined the Vanderbilt School of Engineering in 1997.
Mahadevan-Jansen, a fellow of SPIE and OSA, is the third engineering professor elected NAI fellow in recent years. Philippe M. Fauchet, Bruce and Bridgitt Evans Dean of Engineering, was elected a fellow in 2016 and University Professor John Gore, a biomedical engineering professor and director of the Vanderbilt University Institute for Imaging Sciences, received the honor in 2015.
The newly elected fellows will be inducted in April 2020 at a ceremony at The Heard Museum in Phoenix, Arizona. Laura A. Peter, Deputy Under Secretary of Commerce for Intellectual Property and Deputy Director of the United States Patent and Trademark Office, will provide the keynote address for the ceremony.
NAI has 1,060 Fellows worldwide representing more than 250 prestigious universities and governmental and non-profit research institutes. Collectively, the Fellows hold more than 38,000 issued U.S. patents, which have generated over 11,000 licensed technologies and companies, and created more than 36 million jobs, according to NAI. In addition, over $1.6 trillion in revenue has been generated based on NAI Fellow discoveries.
Posted on Tuesday, December 3, 2019 in Anita Mahadevan-Jansen, biophotonics, Biophotonics Center at Vanderbilt, Fellow of the NAI, fellows, National Academy of Inventors,Biomedical Engineering, Home Features, Media, News, News Sidebar, Research