Annual dinner honors student athletes, ROTC members for double duty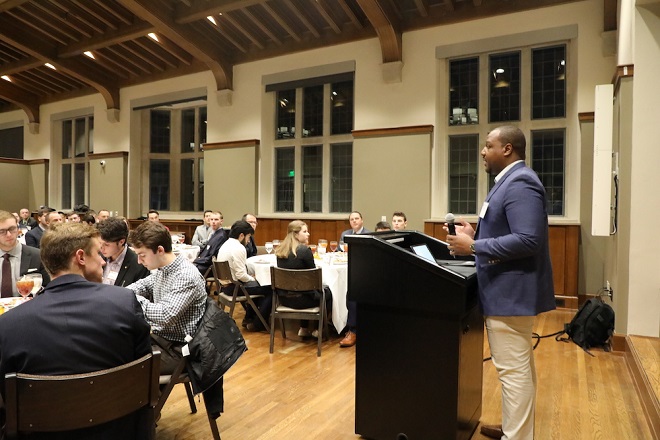 Citing the Beatles, former Vanderbilt Football Coach James Franklin and Confucius, two School of Engineering alumni told student athletes and ROTC members that their undergraduate experiences have put them ahead of their peers – they already know how to manage time and prioritize, how to work as part of a team, and how to lead.
Marc Panu, BE'14, a walk-on football player as an undergraduate, and Thomas Calhoun, BE'78, who served for 26 years as a Civil Engineer Corps Officer in the U.S. Navy, shared their thoughts at the sixth annual dinner hosted by Dean Philippe Fauchet to honor engineering undergraduates who pull double duty.
"I have experienced as a parent how demanding it is to be a student in a great school and be an athlete or in ROTC," Fauchet told the students. "It is a fantastic demand on your time as you represent, the school, Vanderbilt, and the nation and we salute you."
Panu, who majored in chemical and biomolecular engineering at Vanderbilt, recalled how Coach Franklin's four mantras, plus a supportive community, kept him going through tough times, including multiple injuries.
The advice? Always have a positive attitude, maintain a good work ethic, be willing to sacrifice and compete in everything you do.
Panu said he returned to that wisdom as a Ph.D. candidate at Texas A&M University, where he is studying free market solutions to reduce carbon emissions across multiple large sectors. Interest in sustainability led him to ChBE and underpins his career goal – advising large companies with a global consulting firm. He said he landed his "dream job" after devoting more time to interview preparation, treating it much like athletic training.
"Those who think they can and those who think they cannot are often right," Panu said, quoting Confucius. "Who do you choose to be?"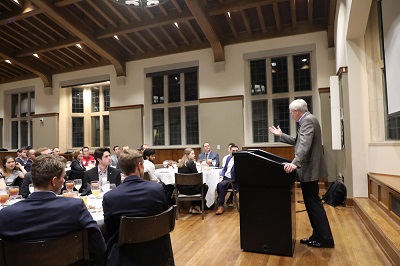 Calhoun retired from the Navy with the rank of Captain in 2004 and then worked for George Mason University for 13 years as vice president of facilities, overseeing more than $1 billion in capital investment. He is Interim Senior Vice President for Administration and Finance.
"You are really in an enviable position because you are learning something that puts you several leaps above your fellow students," Calhoun said.
That includes time management, prioritizing and leadership on top of engineering skills, he said.
During his naval career, he served two overseas tours with the Seabees and two construction management tours with the U.S. Marine Corps. When he retired from military service, Calhoun was Commanding Officer of Engineering Field Activity in Washington D.C. and was responsible for all planning, environmental, design and construction for Navy, Marine Corps and Air Force installations in the metro metro area.
"Senior year was probably last time I saw a differential equation or talked about entropy," he said. What Vanderbilt is doing is teaching you how to think and transfer that into how you look at people.
"The only way you can lead effectively is how well you understand people," Calhoun said.
The students honored were:
Class of 2019: Savino Brusco, engineering science, Navy; Caleb Casolero, BME, Men's Cross Country; Fernanda Contreras, ME, Women's Tennis; Madison Eaker, EE/CS, Women's Swimming; John Fangmeyer, CE, Navy; Waqqas Fazili, ChBE, Men's Cross Country; Kade Mayle, engineering science, football; Kristen Quah, BME/EE, Women's Bowling; Joshua Stafford, CS, Army; Sara Tsai, ME, Women's Cross Country.
Class of 2020: Kacie Breeding, BME, Women's Cross Country; Abbey Carlson, ME, Women's Golf; Kendall Derry, BME, Women's Cross Country; James Haley, EE, Marines; Andrew Irvine, CS, Men's Cross Country; Michael Sandborn, CS, Baseball; Thomas Harrison, BME, Men's Cross Country; Peter Valerius, ES, Army; Christopher Walding, ChBE, Navy; Harrison Wilson, CS, Army.
Class of 2021: Lauren Bergmann, ME, Women's Swimming; Jonah Buchanan, CS, Football; Timothy Degan, ES, Army; Jacob Hardy, ME, Navy; Edward Harpstead, BME, Men's Cross Country; Lauren Potechin, ME, Women's Bowling; Mikala Rhody, ME, Women's Soccer; Keithian Starling, ES, Football; Caleb Von Geffan, CS, Men's Cross Country.
Class of 2022: Evan Bouck, ME, Navy; Grant Bowlds, ES, Army; Mairin Boyle, BME, Women's Soccer; Brian Duncan, ME, Navy; Matthew Estopinal, CS, Men's Cross Country; Marcus Ferreira, undeclared, Men's Tennis; Lauren Harmon, BME, Army; Immanuel Kim, CE, Marines; Nicholas Laning, CE, Men's Cross Country; Megan MacGillis, CS, Women's Lacrosse; Matthew McConnell, ME, Marines; Lucas Mowery, BME, Men's Cross Country; Jack Pantlin, BME, Navy; Gabriela Seberger, ME, Women's Swimming; Alexandra Stuart, ME, Navy; Cole Sullivan, CS, Army; Clayton Wright, CS, Navy.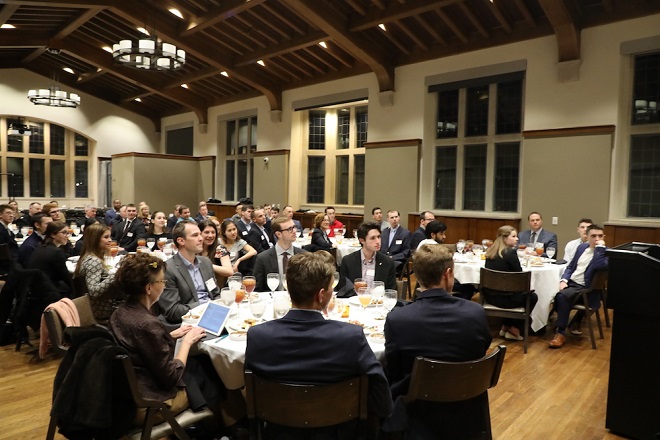 Posted on Friday, February 1, 2019 in Army ROTC, athletics, Dean Philippe Fauchet, Navy ROTC, student awards,Alumni, Biomedical Engineering, Chemical and Biomolecular Engineering, Civil and Environmental Engineering, Electrical Engineering and Computer Science, Home Features, Mechanical Engineering, News, News Sidebar