ChemE major earns prestigious DOD scholarship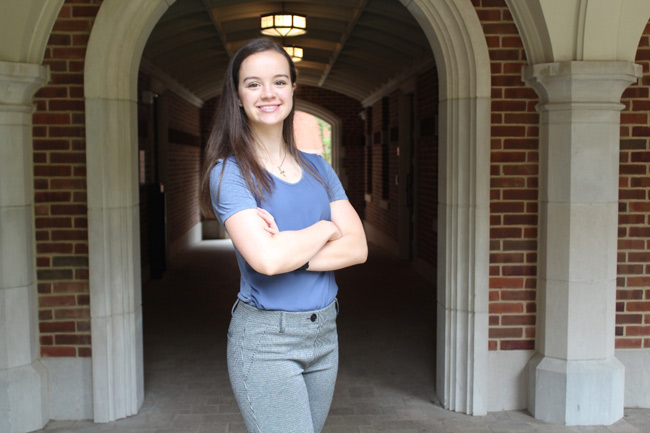 Rachel Strons, a rising junior, has been selected as a SMART Scholar by the U.S. Department of Defense.
The SMART award—which stands for Science, Mathematics And Research for Transformation—was designed to enhance the DoD workforce with "talented, innovative and brilliant scientists, engineers and researchers" by supporting students like Strons, a chemical engineering major from Naperville, Illinois.
Scholars can be bachelor's, master's or Ph.D. students pursuing STEM degrees. As part of their scholarship, students receive full tuition, monthly stipends, health insurance and book allowances, as well as summer internships that range from eight to 12 weeks. Upon degree completion, scholars begin working in a civilian position with their sponsoring facility with a goal of working to protect the country's national security.
"This path will challenge me in ways that I have never been challenged before, and I firmly believe that the Department of Defense [will] help me expand my strengths as well as my skill set, encourage me to become more aware of the world around me, and show me the pathway to a career in chemical engineering and military intelligence," she said.
Strons' SMART Scholar experience will begin with an orientation at her facility starting June 4 and progress into more hands-on work during subsequent summers. She has been placed at DOD's Defense Intelligence Agency in Charlottesville, VA, in the chemical and biological programs division.
In high school, Strons was drawn to the military due to "its teamwork, emphasis on physical and mental strength, strong community and goal of making a difference in the lives of all citizens." She said she appreciates that those same qualities are present on the civilian side of the Department of Defense, where the SMART program is housed.
Additionally, Strons was attracted to contributing in a direct way to an important goal, one that is "integral to our country's functioning and safety," she said.
Strons works on campus at the Outdoor Recreation Center, serving as an equipment specialist and a trip coordinator on the weekends. She is also involved with the engineering fraternity Theta Tau, University Catholic and a member of Alpha Chi Omega sorority.
She credits a recent summer spent completing a Research Experience for Undergraduates (REU) at the University of California–San Diego and the SMART Scholar application process with increasing her confidence in her abilities and strengths. At her REU, Strons was the only rising sophomore and only student with no laboratory experience. She also notes that coming from the top of one's high school class to "being surrounded by people equally as hardworking, smart and accomplished" at Vanderbilt creates "a huge learning curve of self-acceptance between senior year of high school and freshman year here."
By focusing on making the most of her experiences and reflecting on her strengths while developing her application, Strons has learned to appreciate and grow more confident in her skills. She looks forward to growing those strengths over the course of her SMART Scholarship and remaining years at Vanderbilt, she said.
Applicants for prestigious fellowship opportunities are supported by the Fellowships Team at the Vanderbilt Career Center. Students who would like assistance in exploring fellowship options or strengthening their application materials should schedule an appointment with the Fellowships Team through DoreWays.
Posted on Sunday, June 2, 2019 in chemical engineering, military intelligence, student awards, U.S. DoD, Women in STEM,Chemical and Biomolecular Engineering, Home Features, News, News Sidebar