CPS summer camps offer teachers, young learners a dive into cybersecurity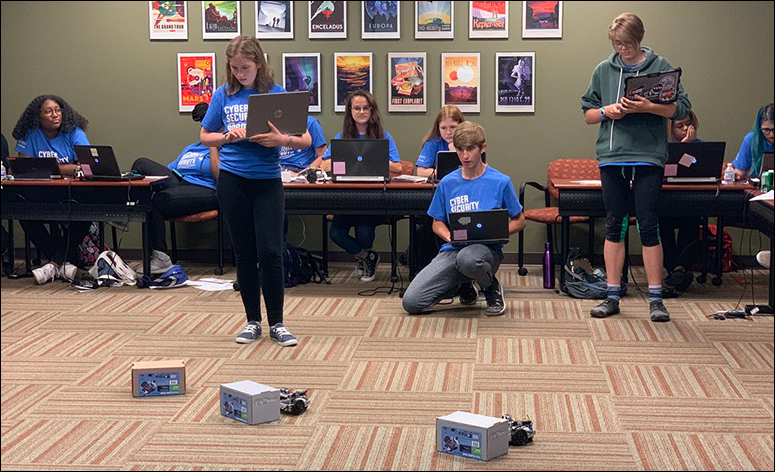 Anastasia likes computer science so her mother told her about Vanderbilt's cybersecurity summer camp. Kimmi and Quinn have a high school friend who was a cybersecurity camper last year.  Tanuj, a veteran of Python and Java camps, said his neighbor, a Vanderbilt computer science professor, thought cyber-physical systems might interest him.
Vanderbilt's Institute for Software Integrated Systems offered three Cyber-physical Systems Security summer camps in June. Each was a free, five-day experience using a hands-on curriculum that teaches cybersecurity, programming and robotics. One camp, new this year, was for qualified middle and high school teachers and two camps for students.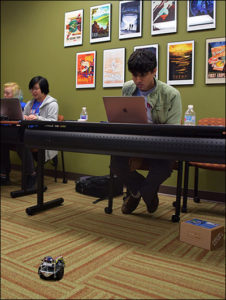 Anastasia Gukasova's mother was right. A rising tenth-grader at Nashville's Hume Fogg High School, Anastasia said she enjoyed her week at Vanderbilt. Kimmi Tran and Quinn Casper, schoolmates at Mt. Juliet High School, said camp was "a lot of fun." Casper programmed a robot to "beep" [using frequencies] one of his favorite songs. "The programming is tiring but the outcome is fun," he said. Tanuj Koli, a rising senior at Montgomery Bell Academy in Nashville, was pleased with the level of instruction. Tanuj spent an extra three weeks at Vanderbilt as an intern for his neighbor, the professor, "to work on devices."
Students worked in teams using WiFi-enabled robots and NetsBlox, a visual block-based programming environment specifically designed to teach distributed programming basics and computer networking.
Professor of Computer Engineering Akos Ledeczi and his team created NetsBlox. The team has worked with students as young as middle schoolers and the June camps are another opportunity to work with young learners.
"I have an appreciation for K-12 teachers and their bright and challenging students," Ledeczi said and smiled as the noise level rose in the classroom.
In all, there were 19 students in the first camp, 25 in the second camp, and 11 teachers in camp created for educators.
Christian Carr, a rising senior at Franklin High School, heard about CPS camp from a friend of a friend. "I like computer science in general, but programming and robots in particular," he said. "It was super interesting. I learned a lot."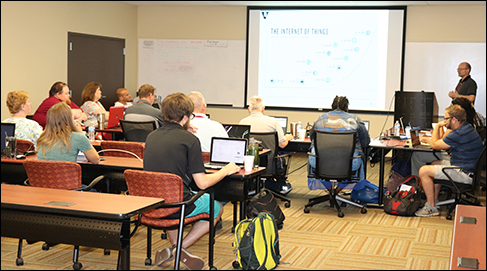 The NetsBlox environment enables students to disrupt or hijack each other's robots, allowing them to be both attacker and defender. These camps demonstrate to students the need for various detection and defense mechanisms and spark interest in further studies in cyber-physical systems security.
"The hackers to watch out for were the quiet programmers. You could see the confidence and satisfaction in their faces as they quietly hacked competing team's robots," said Mary Metelko, a system architect at ISIS and a valued camp resource.
"If you consider the popularity of Netflix, Facebook, YouTube, Twitter, Google Maps, Siri, Amazon Echo, all distributed programs, distributed programming is rapidly becoming part of basic computer literacy, so NetsBlox presents a unique opportunity because students already use this technology every day and their natural curiosity will motivate them to learn more about it," Ledeczi said. "We believe that NetsBlox will provide increased motivation to students to become creators and not just consumers of technology."
"Several students had no previous programming experience, yet they left the camp feeling they had the skills to experiment with programming using Netsblox and they will continue improving their understanding of how to write code," Metelko said.
This is the third summer for Vanderbilt CPS camps and camp partners are the National Science Foundation and National Security Agency, which offered three employees as teachers. Four engineering graduate students and two undergraduates also helped.
Contact: Brenda Ellis, (615) 343-6314
Brenda.Ellis@Vanderbilt.edu
Posted on Friday, August 2, 2019 in Akos Ledeczi, CPS security summer camp, cybersecurity, netsblox, programming, robotics, Vanderbilt's Institute for Software Integrated Systems,Alumni, Electrical Engineering and Computer Science, Home Features, Media, News, News Sidebar