Cummings to present plenary lecture at global thermodynamics conference
Peter T. Cummings will present the Molecular Physics Lecture, one of five plenary lectures, at the global Thermodynamics 2019 conference on the coast of Huelva at Punta Umbría, Spain, June 26-28.
The lecture—"The Molecular Simulation Design Framework (MoSDeF): Capabilities and Applications"—is sponsored by Taylor & Francis, publishers of the journal Molecular Physics. A division of the Royal Society of Chemistry, the oldest chemical society in the world, sponsors the biennial thermodynamics conferences.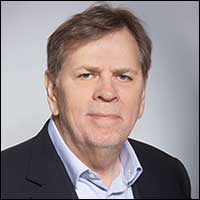 Cummings and colleagues in the Multiscale Modeling and Simulations group and the Institute for Software Integrated Systems at Vanderbilt developed MoSDeF, a suite of tools that "simplifies dramatically" the work involved in performing research-quality molecular simulations. His colleagues include Clare McCabe, Cornelius Vanderbilt Professor of Engineering and associate dean for postdoctorial affairs in Vanderbilt's Graduate School; Chris Iacovella, research assistant professor of chemical and biomolecular engineering; Akos Ledezci , professor of computer engineering, and students.
"MoSDeF also makes it easy to publish reproducible simulations, and reproducibility in computational science is becoming as important as reproducibility in science in general," said Cummings, the School of Engineering's associate dean for research and John R. Hall Professor of Chemical Engineering.
Cummings is a globally recognized expert in molecular modeling and simulations. In addition to his research accomplishments in molecular theory and molecular simulation, he has been pivotal in the acceptance of molecular modeling and simulation as an integral part of chemical engineering.
Cummings directs the Multiscale Modeling and Simulation center, an interdisciplinary research facility in the engineering school. In addition to molecular simulation, his research interests include statistical mechanics, computational materials science, computational and theoretical nanoscience, and computational biology.
Thermodynamics 2019 is the 26th meeting in a series of conferences and it features invited lectures, oral and short presentations, and awards recognizing researchers and young scientists.
In addition to Cummings, the other four plenary speakers are scholars from Australian National University, Canberra; University of Cambridge, United Kingdom; University of Aveiro, Portugal; and the National Technical University, Athens, Greece.
Contact: Brenda Ellis, (615) 343-6314
Brenda.Ellis@Vanderbilt.edu
Posted on Wednesday, June 5, 2019 in chemical and biomolecular engineering, Molecular Physics Lecture, Molecular Simulation Design Framework, MoSDeF, Peter Cummings, Royal Society of Chemistry, Thermodynamics 2019,Alumni, Chemical and Biomolecular Engineering, Home Features, Media, News, News Sidebar, Research