Data Science Institute welcomes first cohort of undergraduate summer research fellows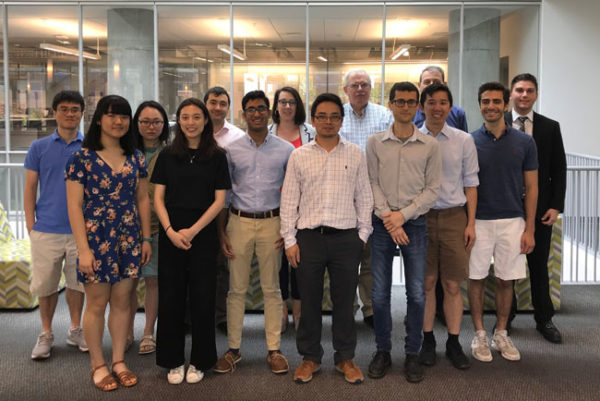 The Vanderbilt Data Science Institute welcomed its first cohort of undergraduate summer research fellows in early June. The Data Science Institute Summer Research Program aims to engage students who are interested in data science-related research with Vanderbilt faculty.
A committee of 15 DSI-affiliated faculty, led by Tom Palmeri, professor of psychology and of ophthalmology and visual sciences, evaluated student research proposals that covered topics in either foundational data science research
; the development, evolution or implementation of data science methods; the application of data science to one or more academic disciplines; or the impact of data on society and its institutions.
Out of more than 30 submitted applications, eight undergraduate students representing diverse academic backgrounds and research interests were awarded fellowships. Four of the students are engineering majors.
The students will engage in 10 weeks of research with their faculty mentors, participate in data science skills workshops and demonstrations, and present their final research at the Vanderbilt Undergraduate Research Fair to be held later this year.
The 2019 Data Science Institute Summer Research Program fellows are:
Joseph DeRose, a rising senior majoring in computer science and mathematics, who will work with Dr. Matt Berger. Their research project will use deep learning to ease the burden of peer review through the development of automated, and semi-automated, machine reading techniques to classify how a cited document is used in a given research article.
Rachel Fan, currently an undeclared sophomore, who will work with Dr. Lauren Gaydosh on a project investigating whether consistent social support can be used to predict risk for metabolic syndrome, a group of conditions that raise the chance of heart disease, stroke and diabetes. Machine learning techniques will be applied to data from an ongoing national longitudinal study.
Lingyan Hao, a rising senior majoring in mathematics, who will work with Dr. Ilwoo Lyu on a research project focused around specific characterization of Alzheimer's disease using biomarkers of the human brain. By applying machine learning methods, they hope to select and generate the most descriptive biomarkers, reproduce outcomes from existing studies, and investigate potential associations with clinical outcomes.
Catherine (Nayeon) Kim, a senior majoring in applied mathematics and English creative writing with minors in philosophy and computer science, who will research the intersection of politics, consumerism and networks. Under the supervision of Dr. Jennifer Larson, she will look at the ethical connections between corporate marketing and political campaign propaganda, individual social networks and voting decisions, and the design and modification of tech company algorithms to boost financial gains.
Evan Rothchild, a biomedical engineering senior on the pre-med track, who will work with faculty mentor Dr. Mikail Rubinov. Their research project seeks to develop an intermediate approach to sampling brain networks with complicated constraints and apply the approach to the analysis of existing data. The method will be based on the use of variational autoencoders, a tool for unsupervised learning of complicated data distributions.
Nilai Vemula, a second-year physics major, who will investigate how data science can be used to create models of gene expression networks. He will work with faculty mentor Dr. Mark Magnuson and extend his capabilities to analyze different RNASeq datasets to formulate a gene correlation network. Vemula plans to utilize R scripts and other tools to group genes with similar expression patterns into modules.
Ulysses Yu will examine the perception in machine learning and how it can be utilized effectively and safely in autonomous systems. Under the direction of Dr. Xenofon Koutsoukos, he will investigate performance and robustness of convolutional neural networks used in perception in autonomous systems. Ultimately, the senior computer science major's project will emphasize robust learning algorithms for investigating how such preceptors perform for previously unseen data.
Xinmeng Zhang, a rising sophomore in computer science, will aim to help health care organizations design management strategies to improve efficiencies of electronic health record (EHR) systems. With faculty mentor Dr. You Chen, the research will leverage audit logs to model a provider's EHR system utilization behavior and measure relationships of the behavior with the provider's workload or a patient's outcome. While EHRs provide high-volume data, the examination of audit log data has seldom been investigated.
Learn more about the Data Science Institute Summer Research Program.
Contact: Brenda Ellis, (615) 343-6314
Brenda.Ellis@Vanderbilt.edu
Posted on Thursday, June 13, 2019 in biomedical engineering, computer science, Data Science Institute Summer Research Program, Vanderbilt Data Science Institute,Alumni, Biomedical Engineering, Electrical Engineering and Computer Science, Home Features, Media, News, News Sidebar, Research