Distinguished alumnus George Trabue was Eastman Chemical leader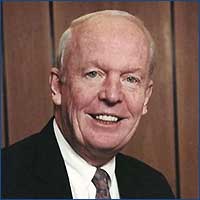 Vanderbilt School of Engineering distinguished alumnus George O'Bryan Trabue Jr., 86, died Aug. 10, 2019, in Kingsport, Tennessee.
Trabue received a bachelor's degree in chemical engineering in 1955. He went on to do postgraduate work at the London School of Economics. He served as a Lieutenant in the United States Marine Corps as a Rifle Platoon Commander and a General Officer's aide-de-camp from 1955 to 1958.
Trabue retired as president of Eastman Chemical Products, Inc., a subsidiary of Eastman Kodak Company, after a 38-year career with the company. He had also served as a senior vice president, vice president, as well as director of Eastman International Division and manager of the European operations in Switzerland for eight years.
In 1993, Trabue was inducted into the Academy of Distinguished Alumni of the School of Engineering. He was a past member of the Engineering Council and the Board of Directors of the Vanderbilt Alumni Association as well as a dedicated supporter of the engineering school.