Distinguished alumnus, Vanderbilt Motorsports supporter Joe Dorris dies at 76
A dedicated Vanderbilt Motorsports supporter and School of Engineering Distinguished Alumnus Joe M. Dorris, 76, died July 16, 2019, in Huntsville, Alabama.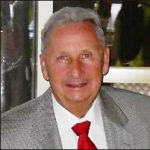 Dorris received a BE degree in electrical engineering from the Vanderbilt University School of Engineering in 1965. He earned a MBA degree from the University of Memphis in 1970.
After graduation from Vanderbilt, Dorris worked for various companies, including McDonnell Aircraft, RCA, Union Carbide, R.O. Whitesell Associates and Futaba Corporation of America. He established Futaba Corporation of America Operations in Huntsville in 1985 and retired in 2006 as President and CEO after 26 years at Futaba.
At Vanderbilt, he was a major sponsor of the Vanderbilt Association for Technology Management program. He received the Vanderbilt School of Engineering Distinguished Alumni Service Award for his support of the Vanderbilt Motorsports program, is sponsored by the School's chapter of the Society of Automotive Engineers.  The motorsports facility in Featheringill Hall is a gift of Claire and Joe Dorris.
Dorris was inducted into the Academy of Distinguished Alumni in 2011. He was an active member of the school's Committee of Visitors and a member of the Fred J. Lewis Society.
Dorris also supported University of Alabama-Huntsville, the University of Memphis, the Huntsville Symphony Orchestra, Riley Hospital for Children Hospital in Indianapolis, and the Mayo Clinic Foundation. He had a passion for open wheel IndyCar racing and sponsored many cars and drivers at Indy 500 races.
Dorris is survived by his wife, two daughters, five grandchildren, a sister, brother and nephew.
Contact: Brenda Ellis, (615) 343-6314
Brenda.Ellis@Vanderbilt.edu